There Is No God
Boy, 4, killed when hit by truck

A four-year-old boy was killed when he was hit by a truck outside his home in Melbourne's south-west today. It is believed he was struck by the truck while riding his bicycle outside his home at South Shore Avenue, Point Cook, about 11.20am (AEDT).
News like this just totally guts me.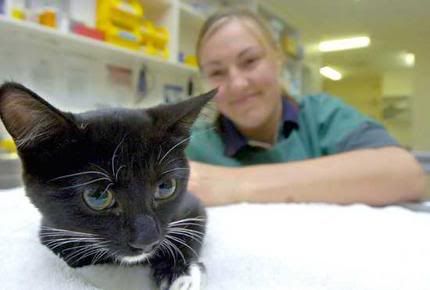 Kitten torched
A kitten was doused with petrol and set on fire the day after two teenagers were charged over the torture of another kitten at a Sydney railway station. Three boys were caught on closed circuit TV (CCTV) stoning, stomping on and twice running over an eight-week-old kitten with a bicycle about 2.30am (AEDT), police said.

Parents blamed for kitten attacks
Parents were to blame for a culture in boys that lead to cruel attacks on kittens, RSPCA president Hugh Wirth said today. Commenting on three separate attacks on kittens in 10 days by groups of boys and men, Dr Wirth said the behaviour was uniquely male and uniquely Australian.
'It's an Australian, male cultural issue where Australian males from birth have been educated by their fathers and in some cases their grandfathers and their peers to hate cats,' Dr Wirth said.
'(They're taught) cats are a female thing, you can't handle cats, you can't control cats. 'It certainly isn't ingrained into English males or American males or European males.'
Dr Wirth said he had no doubt the frequency of attacks on kittens was growing. 'It is surely getting worse and it's always young males and it's always kittens,' Dr Wirth said.
Yeah, show yer mates what a MAN you are. Start with torturing insects, small animals, buy a wardrobe of wifebeaters, grow up to inflict emotional and physical pain on the long suffering partner, friends, family and any other poor bastard that crosses your path. Stinking vermin, they better be praying the vast army of Cat Ladies don't get to them before the rest of us do.
Again, news like this just totally guts me. Read the brief life story of Jeffrey Campbell from Canada. He's the sort of mongrel **** that kitten torturers evolve onto...

'Pure psychopath' jailed indefinitely...
......Jeffrey Campbell drove into 65-year-old cyclist...more dangerous psychopath than Olsen, Bernardo. Jeffrey Michael Campbell, who deliberately ran down and killed a Brampton senior with a stolen car, is going behind bars, perhaps forever. The 26-year-old Windsor man, who scored higher on a test for psychopathy than Canadian serial killers Clifford Olsen and Paul Bernardo, was declared a dangerous offender yesterday for that brutal homicide - and a history of violence that started when he was a toddler.

"Campbell has had a history of using vehicles as weapons to harm his passengers or strangers. He also has a history of arson, and has faced numerous allegations of assault and death threats against women, and jail guards and their families."

"Campbell set his first fire at age three and used a lighter to set the clothing of two playmates ablaze when he was five. He has had more than 40 convictions, 22 of them before turning 18. An ex-girlfriend alleged in court that Campbell fed a cat to a pit bull, which he denied. He is now one of Canada's youngest dangerous offenders. "
May this Irish curse be upon Campbell & his kind....may the seven terriers of hell sit on the spool of your breast and bark in at your soul-case.