"But can she ride a bike?"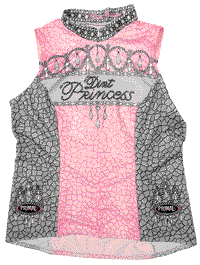 That was a question asked by a Finnish lady on
774
earlier today.

Inspired by
Princess Mary's
distinctively regal formal wear, a Hobart boutique has created a right royal window display, The Mercury reported.The display, in Danish colours, features evening gowns finished with Mary-style sashes secured with star-shaped brooches....
View right, now there's a bicycle jersey fit for a Princess!

Mary-style sashes? Oh my, how this ex-Tasmanian chortled with delight; what if the lovely Mary came from Gagebrook, Moonah, Chigwell, Goodwood or Melton Mowbray? (I've even heard rumours over the years that Lachlan & New Norfolk aren't as scary as they used to be). How 'bout Chigga-style flannies, Kappa trackie-dacks, poof boots, mid-riff displays, acidwash pegged jeans & t-shirts emblazed with rude post-modernist slogans? Christ, I shudder with horror recalling early 80's micro-mini school uniforms. I remember shuddering in the cold wearing them. Since departing the isle a virtual lifetime ago, TISM encapsulates how I recall the place....before it went all aspirational.
If its different, punch. If its lager, lunch. If it moves, root. If it quacks, shoot. If its mates, protect. If its wife, neglect. If its wages, bet. If its vicious, pet. If its American, ape. If its a blonde, gape. If its boobs, inflate. If its V8, venerate....
TISM: Yob