Mobile Bikes, Old Bikes & 'Bent Bikes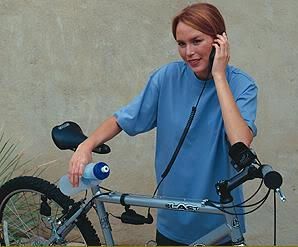 Don't be naughty, dismount first, then take that call!
From the US of A: What will they think of next?
Bike Cell Charger Pedaled
First there were cell phone chargers for the car, then solar-powered chargers, USB chargers and then hand-crank chargers - all designed to ensure that people, no matter where they were, would always have the ability to chat endlessly. Now the latest entry into the market is promising to be wheely big news: a cell phone charger that works on bike power.
Not riding & chatting at the sametime, surely not? Recently got into a spot of bother while doing this, and the car driver that just happened to pass by & royally take the piss was a friend. Ok, mea culpa, won't do it again.
At a loose end & just happen to find yourself in Dublin in May? Well, head to
Velo-City 2005 Dublin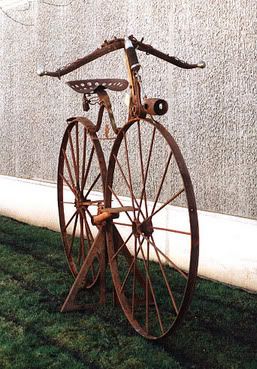 Fascinated by old bikes, then this should intrigue you:
Australasian Cycle History Conference
The conference will attract cycle historians from Australia and New Zealand who are invited to present papers on their favourite cycle manufacturer/s. Australia has had many hundreds of cycle manufacturers since the late 1800's and while some like 'Malvern Star' have been researched, most have not. This is your opportunity to research your favourite or local bike builder and then share your discoveries with us.
Pity, it clashes with
OzHPV 2005 Challenge
"The Greenspeed Broadford OzHpv Challenge 2005 will be a chance for cycles banned from most cycling races (recumbents, trikes and streamlined vehicles) since the 1930's to compete against each other in a wide variety of events, and to socialize and compare vehicles. It's great, fun, family friendly cycling. The organisers aim to have something to please every Human Powered Vehicle fan including racing, riding & watching the fastest and most beautiful human powered vehicles in the country, social rides and a fun trivia competition night. If you're not already a fan, we aim to convert you! "
Bugger, too many silly bikes on one weekend. Broadford wins over Canberra. Require a
'bent
for a attempt on the
Audax Paris Brest
(2011 looking more likely than 2007). Ahhh, dreams. Have a nice weekend. Dream on, 2011?