It was bound to happen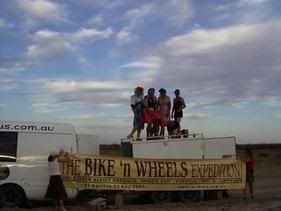 Sooner or later. Or perhaps even sooner. People on bicycles riding across the wilds of central Australia and *presto*. The blokes revert to form and start cross-dressing.
Current Ride Gallery:
Day 17 to 20 - Birdsville to Boulia
We'll ride 370km over 4 days with Bedourie village halfway. Seal and dirt alternate, with about 100km dirt. Famous for a version of the camp oven, Bedourie is the administrative centre for the huge Diamantina Shire Council. Boulia is the 'capital' of the Channel Country, and home to a mysterious phenomenon known as the Min Min Light. Watch out for UFOs at night.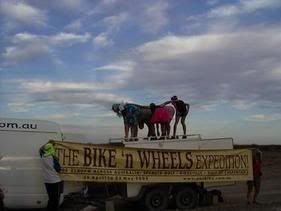 Pure class, huh?

The Bike n' Wheels Expedition hits
Boulia
tonight, but in all likelihood, the riders have a higher probability of witnessing the mysterious
Min Min lights
, instead of the shy and elusive
Night Parrot.
Perhaps, perhaps, perhaps. Shall we combine the two? na-na-na-na, na-na-na-na, na-na-na-na..................