Raining in Birdsville!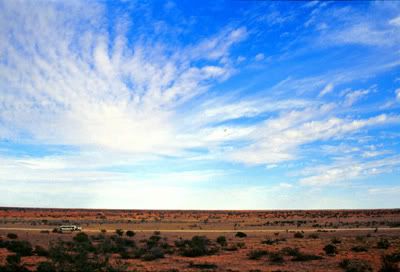 obviously not doing that here....
Quick message from sweetie, Bike n' Wheels has arrived in Birdsville! And, surprise, it's raining! Latest Weather Observations for Birdsville

He mentioned far too many cars, 4WD's and horse on the track. Apparently it was the "Great Australian Outback Cattle Drive", with suspiciously few cattle. So much for days of yore, such as those depicted in the Australian classic, Back of Beyond, More details tomorrow, it's a rest day for the ride. Adelaide photos of riders here. (Velophile is a tall handsome gentleman lurking in the background ;))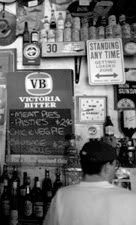 Update: This evening, participants of the
Outbike tour
held the inaugural "Bike n' Wheels Birdsville Dash". Which basically involved a bog lap of the 'town centre', pitstop for beer at the Birdsville Pub, then a mad sprint to the finish line down the main street. And the winner was.....Velophile!!! He put his winning form down to the dedicated training done via singlespeeding & beer at the
Dirt Crits.
Bike n' Wheels trackback:
In low earth orbit around South Australia
Bike n' Wheels Expedition: Day 2
Big Desert Adventure!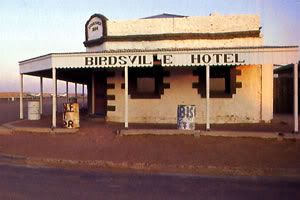 May 11: Hi sweetie
In Birdsville, net connection very slow. Rest day today, usual guff, clean bike and do laundry.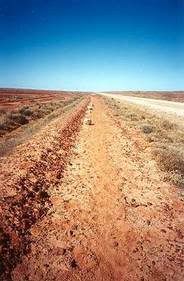 Been to pub last night, late night really. The Track north from Mungeranie was OK until we turned off onto the "inside track" less used & maintained. Meant to be more scenic. Yesterday was the sort of country I thought we'd see more of. Sandhills and deserty looking. Hard riding through soft silty crap on the road. Glad to have the day off today. Off to search for coffee now. Missing you and animals a bit. Love xxx

cfsmtb note: the animals are now taking advantage of the home situation. Colder weather in Melbourne = start of the annual cat migration from foot of bed to pillow, culminating in burrowing behavior at say, about, 3am. Dog now getting hot water bottle & tucked into kennel. Well, she is 17+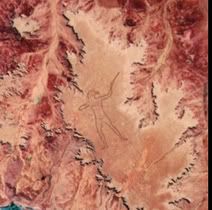 May 2: Hi sweetie, I just got into Marree. The old Ghan station has been set up as a net/computer centre. Slow connection but it works. Bit of a shit day for me today, never felt right. Like I was dehyrated or getting a cold or something. Felt better after lunch. Don't think I was dehydrated though, stopped for wiz after arvo stop. The road didn't help. Flat & straight, rough and dusty with stinking head wind. I hope the road to Birdsville has a few more hills. Anyway, recap. 29th Friday. Did bugger all on the rest day at Angorchina. Laundry and cleaned the bike. Ended up working on about 3 other bikes. Got beer for the work though :)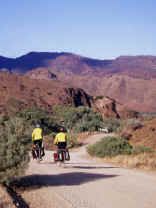 30th Sat'dy. Down the hill to Parachilna, rough and corrugated, threw the chain 3 times, f*ck it, greasy fingers again. The last few kms to Para was a scream, tail wind, slight down hill, weee!

Turned right and north to Beltana. Bitumen run for 20 odd km before leaving the highway again for 17km to Beltana station. Stayed in shearers quarters, not bad room.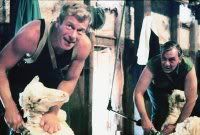 Flashbacks from
Sunday Too Far Away
1st Sun'dy. Early rise for some stoopid reason. Toilet probably. Though nearly last to leave after making coffee for the morno stop. 3 plungers fill two thermos's.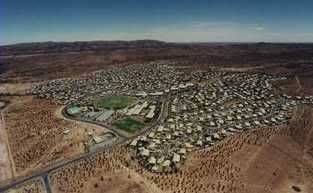 Some average road but good views for 17km to the highway, then zoom on bitumen to morno :) Not far from Leigh Creek. Got some post cards there and on to Copley bakery for lunch. Kanga pie, drink their Quandong pie and coffee, first decent coffee since...... a longtime.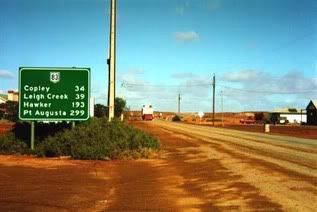 'Twas better than the one in Adelaide. Bit of a tail wind on way to Lyndhurst. Ride with Allen, older ex-racer type. sit on ~25 - 30 at least for the whole way. Straight to pub for beers on arrival :) Good room in pub tonight too :)) OK gotta go. I'll call tonight. Will try to burn some photos here too.
Love xxx