Big Desert Adventure!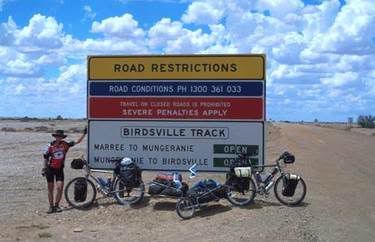 Beer, Beer, Beer, where can we find a beer?
Apols no
Goatees
tonight, we''ll all far too busy with important plans. My partner's off to do some Trans-Continental
'winter base training'
on Monday.
This challenging escapade endeavours a South to North traverse of Terra Australis via the remote interior. Expect to relive some of the challenges of the late Burke and Wills Expedition (1860-61) and definitely be prepared for a journey well beyond the 'Back of Bourke'!
So the Kona Unit has been rigged up to go, after the much-loved & much-ridden MTB Ti frame finally died a few weeks ago. The new rig, now with a 9-speed rear derailleur (but no front) has been re-christened the 'Kona Travesty'. It's a lean, mean, desert ridin' machine, complete with spiffy bidon cages. I'll be staying here, minding the towels & being tormented by the dog, cats & the washing-up.

Apparently ABC
Central Australia
will be keeping tabs on the Bikenwheels tour. And I'll be ranting away with the usual crap + updates from him every couple of days on this blog right here. So, tonight or at sometime in the next month or so, raise a glass to his Big Adventure. I'm sure he'll appreciate the thought, and a metaphysical 'cold one' while he's out there, cycling through the wilds of central Australia!