Boom Crash Opera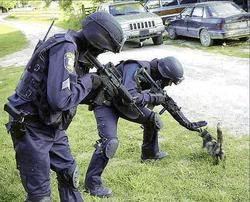 Oi! You! No pussyfooting around and come out with your tail up!
Last Tuesday, it's a calm autumn evening. We're cycling along Wellington Street with the Better Half, after enjoying dinner on Smith Street. The on-road bicycle lane is obstructed by traffic barriers, iron poles and witches cones on Otter Street, all the way to the Police Workshop.

Hmm, maybe there's afterhours work planned for the warehouse re-development on the intersection of Gipps & Wellington? Don't give more thought, pedal off home. In the early hours I'm woken up by muffled thuds and odd crackling noises. Cynically think, ah, it's yet another factory going up. There's been been a bit of that activity recently. During the rest of the week, via radio talkback & letters to The Age, the REAL story emerges. It was a
counter-terrorist
exercise.

"......Police have defended a counter-terrorism exercise in Collingwood last week, saying residents had been notified by a letter drop and the exercise needed "authentic" buildings. Residents near the former Collingwood TAFE college were woken soon after 5am last Thursday by explosions and gunfire, which were part of a combined operation by the Australian Defence Force and Victorian police. The Yarra Council, which was not warned of the scale of the exercise, said yesterday it would complain to federal Attorney-General Philip Ruddock and the Victoria Police. It has called for ground rules for any further exercises....."

Correction to The Age, article, 5am last Wednesday.
Sic 'em Councillor Jolly & Yarra Council, I'll take back what I said about the leafblowers yesterday. On 774, Jolly mentioned how some residents were still traumatised by the Hoddle Street shootings. Shessh, you would expect the Victorian Police to show duty of care towards the local community.
There is a better way to Uphold the right, and not needlessly scaring the living shit out of residents in the process.