It's the last of the V8's! Part from here, part from there! You know how it is Maxy!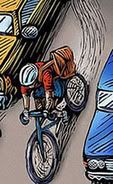 Over there:
US drivers fume as gas prices soar

There are increasing signs that US motorists are changing their driving habits in the face of record prices at the fuel pumps.

Right here
now

Petrol prices could rocket to $1.25 a litre by the end of the year as global oil prices sustain high levels, sparking outrage among motorists and consumer groups.

Over there, but not so far. A cautionary tale:
Few girl cyclists dare to brave city traffic
...
Girls can do anything ... except ride bikes to school.

Ruminate a while, then consider:
Watch the Churn

...The issue is how to get from 'here' to 'there' without raising up a huge army of aggrieved car users in your path.

Chew on this:
Skeuomorphs and Cultural Algorithms
Skeuomorphs are material metaphors instantiated through our technologies in artifacts. They provide us with familiar cues to an unfamiliar domain, sometimes lighting our paths, sometimes leading us astray.



Me Conformadoor, she so sick mate. Yeah, so sick me haveta leave her inta drive and go figure somefink out.....