NYPD shenanigans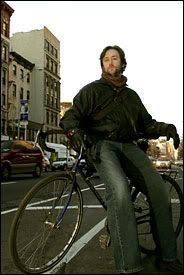 More New York Police Department shenanigans on Critical Mass. When you go to the NY Times link, click on the Multimedia link in the right margin for the video. To login use:
BugMeNot.com
The New York Times: Videos Challenge Accounts of Convention Unrest

Executive summary: To prosecute a defendant who was arrested at the New York City Critical Mass in August (during the RNC), the D.A.'s office edited out footage from N.Y.P.D. videotape, which proved the guy innocent.

In reference to Critical Mass here in Australia, if possible, remember to bring either a bike/pen/paper/mobile/digital camera or recording device. At note to Mick Williams, remember to Uphold The Right, or has that noble intention been misplaced somewhere????

And remember to have fun. That's what it's all about, isn't it?