Critical Mass, scum journalism and the Victoria Police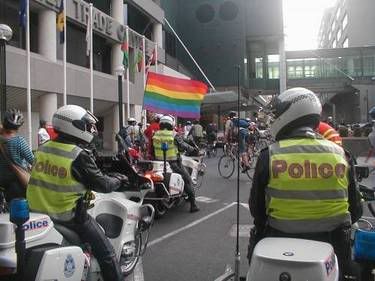 "Hey, Bazza, don't forget to pick up those dozen or so jam donuts for Mick on the run home"
Critical Mass, scum journalism and the Victoria Police : Melbourne Indymedia, by Takver
Have you ever wondered about what power a journalist wields? What spin they can put on a story? How they can have an honest cop transferred? On the February Critical Mass - the Bolty Ride - cyclists dumped their feelings on Herald Scum journalist Andrew Bolt, while honouring former police bicycle squad member Russell Lindsay who has been transferred to other duties due to pressure from said journalist. The ride also paid respect to a cyclist reported killed on Todd Road, Port Melbourne on February 1st.

Herald Sun journalist, Andrew Bolt, and 3AW talk back radio host Neil Mitchell, and Melbourne police superintendant, Mick Williams, had done a wonderful job pushing for a ride on CityLink, except they failed to turn up with maps to hand out for their route. Instead we saw several squad cars, the police horse squad, half a dozen highway patrol motorcycles, several constables on foot, the police helicopter, and even members of the special force squad (riot squad) in plain clothes all outside the State Library to meet and greet the cyclists on the organised coincidence of critical mass. The media were present as well, although I doubt any had the gumption to send a reporter on the whole ride.

A map was handed out by cyclists called the Bolty Ride. It contained a route map for the ride and three text inserts. It included a ride by of the Herald and Weekly Times buiding on Southbank, and the Herald and Weekly Times printing plant in Port Melbourne, as well as riding along Lorimer Street which has been castigated by cyclists for dangerous car driving. (more in article)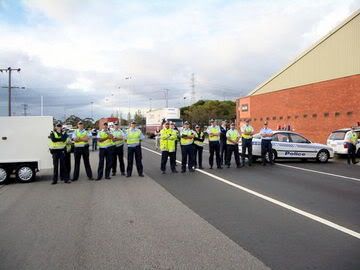 Police blocking Todd Road as Critical Mass held a minutes silence for a cyclist killed on February 1st. Imagine the outrage if anyone dared interfere with
Blue Ribbon Day?
More photos
here.
More discussions
here
and
here.
Is this bullshit, we mean, approach, courtesy of advice via the
Boston Consulting Group
? Come on, it's far wiser to save the money for jam donuts, and also recruit more local police. The
3AW
rumour about CM doing Westgate was a absolute pisser, did they get all overexcited and confused with BV's Great Melbourne Bike Ride (cancelled this year), which they used to sponsor once? Regardless whether ones opinion is pro or anti Critical Mass, observing Andrew Bolt and Mick Williams chasing phantoms around the internet recently illustrates how gullible the media and police really are. May the deities protect us all from terrorist bastards, the authorities are too busy wasting police resources safeguarding Transurbans revenue, and chasing wacky bicycle rides around the inner 'burbs. There's plenty of rich pickings here for investigative journalists to research.

more from article......Superintendant Mick Williams also appears to be protecting the monetary interests of a private company, CityLink, at the expense of the right of protest and freedom of speech of cyclists. We should demand better of our public servants.