Fat Cats of Little Britain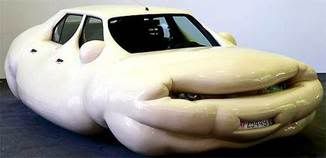 Yes, your bum will get big in this
Public transport plans blocked by need for car taxes

Public transport schemes designed to tempt motorists from their cars and reduce congestion are being blocked because the Government is reluctant to lose income from road taxes, it has emerged. Green projects such as bus lanes are falling foul of Department for Transport rules which force local authorities to weigh the loss of revenue from fuel duty and VAT which would result from drivers switching to public transport.
The revelation brought demands for a rethink last night from government advisers. Professor David Begg, chairman of the Government's Commission for Integrated Transport, called for an urgent review of the policy. He said: "The danger is that too much emphasis is placed on the impact on the Treasury coffers and not enough on the wider economic and social benefits of improving public transport." One senior local government planner said that it was hypocrisy for Labour to champion the Kyoto agreement on carbon emissions only to put obstacles in the way of 'green' transport plans.


Now whats to say, a similar process or collusion, is not at work here in Australia?