Local Stuff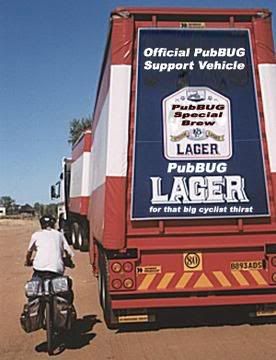 (Cue
Holst
,
this blog entry comes with it's own soundtrack
)
Stargazers prepare for daylight view of Jupiter
prepare for daylight view of Jupiter.

Pity we're a tad too south here.
Remember to visit Bicycle Justice for the latest on the Kapunda Road Royal Commission
Returning to spinning around Melbourne: the next
PubBUG
Event. Bring the bike, bring a blanket & thermos, and the all important beer money. We'll work out the finer details soon, of the PubBUG third annual visit to the REAL footy.
The Community Cup Returns
The Sacred Heart Mission's twelfth annual Community Cup on Sunday 26th June at the Junction Oval, St. Kilda where The Espy Rock Dogs meet the 3RRR/3PBS Megahertz


Hippy's
still frollicking around the European countryside. And he's discovered an establishment with 600 beverages. Lucky bastard.
Ugly, yes, but the overpass served a purpose
Scrapping the Flinders Street overpass will be tough on commuters, writes Stephen Cauchi. Do you remember when the Monash Freeway had traffic lights on it? When the long-delayed link from Toorak Road to Warrigal Road was finished in the early 1990s, there were four major intersections along its length, at Burke, Tooronga, Toorak and Warrigal roads. This was so the government could say it had built an "arterial road" and not a politically incorrect "freeway". An odd decision, and one later rectified when overpasses were built at the intersections. There can't be many motorists today on that freeway who long for the days of traffic lights. Commuters travelling on Kings Road/Way - a major southern artery out of the CBD - are in a slightly different category. From next month, they will start longing for the days of the overpass.
Either way, this area has always been a shitfight for cyclists. Ride on the overpass - bloody risky. Ride along Flinders, deal with numerous x-ings, car park traffic & errant vehicles.


From Lysterfield MTB group: Trail work, volunteers needed...... Here is the news we've all been waiting for. MTBA has been given the task of building a new link trail & upgrading a current one. The working bee/s are proposed for June 25/26 or July 2/3, or both depending on the number of volunteers and the progress of work. Please reply direct to express your interest. I need to know on what dates and for how many hours you can attend. Email: frm125_steve@yahoo.com.au

Discussions on aus.bicycle: SHAME FILE-Near Misses Road Rage VIC Salary sacrifice for super and cars, why not bicycles: Salary Sacrifice Another old chestnut: Cyclists on pavement

A odd Victorian/Melbourne road law explained: The Hook Turn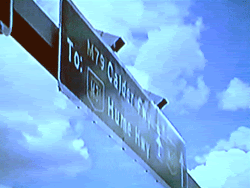 Database blamed for vehicle registration system problems
An outdated computer system riddled with inaccurate records has been blamed for the poor state of Victoria's vehicle registration system, according to Ombudsman George Brouwer. In a report tabled in the Victorian parliament yesterday, Brouwer said the failed system cost the state $554 million in unpaid fines last year. He said the uncollected traffic fines were largely due to difficulties in issuing infringement notices because of inaccurate or out of date registration information on the Filtrates database. 'Inaccurate, incomplete and fraudulent registration records result in millions of dollars of lost revenue for the state of Victoria,' he said.

Remember another old chestnut, of registering bicycles? Taking the above example into consideration its got Sweet FA chance of ever being taken seriously. Dead and buried. Cactus. I'll haul out this news article and recite it ad finitum when the conversation at stupid dinner parties or pub sessions turn to "Cyclists don't pay petrol taxes, don't hold cars licenses blahblahblah." Well, motorists don't either and are you one of the honest ones? Now ShaddupShaddupShaddupShaddup.
UPDATE: From aus.bicycle: Rego call from our 3AW mates
MitH has sent me two mp3's of this 3AW broadcast (20/6). Email me if want a copy, or if you feel up to doing a transcript. Basically covers Nick McCallum interviewing Harry Barber (Bicycle Victoria General Manager) bicycle licensing issues+ Commonwealth Games funding issues + the Obituary Cr*t*cal M*ss References. Please forgive the background interference, apparently a tram was going past during the recording. Or if you're flush with $$$, contact Rehame for a clearer copy.
Email: cfsmtb@gmail.com Details: nick2.mp3 (1063K Download) nick1.mp3 (1722K Download)