Global Warming et al & Michael Crichton talks crap
Scientific gathering to assess global warming

World experts are expected to come to a depressing conclusion when they gather next week for the biggest scientific assessment in four years of Earth's global warming crisis. New evidence put forward by leading scientists will add pieces to a mosaic of evidence, which suggests the climate crunch is speeding up. The evidence also suggests that global warming will have a harsher outcome than previously thought.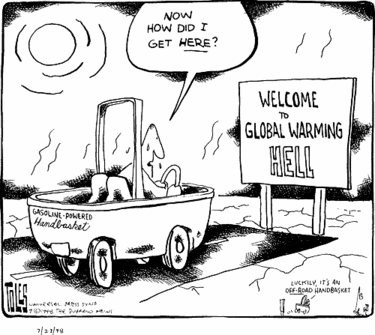 New novel turns tables on global warming theory

A new novel that says fears of global warming are unjustified and stoked by an environmentalist-media conspiracy is taking Washington by storm. State of Fear, by Michael Crichton, the best-selling author of Jurassic Park and creator of the TV show, ER, compares scientists who warn of global warming to advocates of eugenics who said that the mixing of races would ruin the world's genetic stock.


The danger is hot air, not global warming

To lift Africa from the ravages of poverty and Aids would to most world leaders seem a big enough topic to fill a single speech. But not Tony Blair. Speaking at the World Economic Forum in Davos last week, the Prime Minister moved swiftly between the subjects of Africa and climate change. 'On both,' he said, 'there are differences which need to be reconciled. If they could be reconciled or at least moved forward, it would make a huge difference to the prospects of international unity, as well as to people's lives and our future survival.'


Experts to discuss global warming threat
Concern about the impact of global warming on the NSW mid-north coast has prompted three scientists to call a series of meetings in the region. One will be held early next month in the Hastings. Palaeo environmental scientist Mary White, retired physicist Ken Inall and climate change researcher Tony Doherty say people need to wake up to the reality of global warming.


Turkey - Global warming could be twice as bad as feared: computer model

Global warming may be twice as bad as expected, according to a new assessment of a commonly-used yardstick of possible carbon dioxide (CO2) pollution.