If they come for me at night, they're coming for you in the morning
Time for a laff & a chuckle. No, actually, this report from the frontline down at Kooyong is ALL factual. The writing style sounds vaguely familiar. Um, not telling.
Kooyong Terror Update : Melbourne Indymedia
Kooyong terror levels increase as the terrorist's tighten their stranglehold on the ' city of fear' Kooyong terror update - the terrorists in Kooyong are said to control the entire city apart from a small ' Green Zone ' near the river. The terrorists are mainly local Sunni Liberals with an increasing number coming in from training camps outside the city. The largest of these camps, Camp JeJune, trains the most fanatical Gucci terrorists that ever donned Armani. Their most feared technique? The petro bomb of course.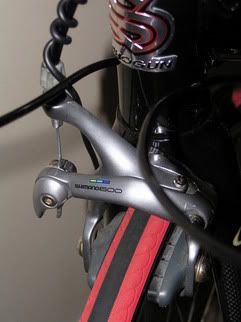 "How To Build Up A Decent Road Bike For A Small Lady For Under $1500"
The New Steed is almost finished. Only finishing touches required are dust caps & pair of red shiny bidon cages. Velophile aka Bikesoiler is trying to convince me NOT to put matching red shiny guards on a road bike. But I want to, I wish to emulate a Dork image. And a postal rack. (how Audax
) See right for a sneak peek, ain't she beeaauti-ful? Further details on actual specs soon.

Quote from cycling news
that's inspiring me to get out there & do some winter base training. Today: Yarra Boulevard. Tomorrow: 100km Alpine Classic. We all have our dreams, don't we?

Who's the favourite to win tomorrow?
"Me," concluded Rogers
You go boy.
UPDATE: Unfortunately,
Aitor Gonzalez
pipped him by 46 seconds. If it wasn't for complications from a cold (ie: bung ears) I'd be out hooning around.