Digging Holes around Melbourne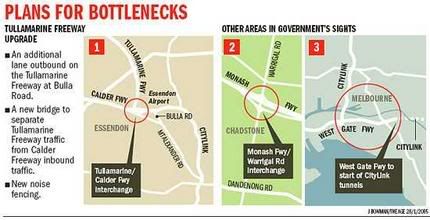 More crap from the Victoria road building lobby, akin to loosening a belt to lose weight.
CityLink looks at more hot spots
A pact with the State Government on eliminating a bottleneck will save time and improve safety. Up to 10 minutes of peak hour travel time will be slashed for motorists between the Melbourne Airport and the city under a $150 million upgrade of one of Victoria's worst bottlenecks. The State Government and CityLink operator Transurban have a struck a deal to fix the Tullamarine-Calder Freeway interchange near Essendon to try to improve safety and cut congestion.Two more of Melbourne's worst traffic hot spots, both of which feed into CityLink, could be improved under similar deals.


Transurban's $300m Tullamarine Freeway upgrade

Transurban Groupo (TCL) today announced that it has reached an agreement with the State of Victoria and VicRoads to use CityLink concession notes to fund an upgrade of the Tullamarine/Calder Freeway interchange. Transurban advised that this work is now to commence in the immediate future and should be completed within three years.


Eastern-Tullamarine link not on Govt's agenda
The Victorian Government is resisting calls from the Royal Automobile Club of Victoria (RACV) for a link to be built between the Eastern and Tullamarine freeways. The motoring group says the traffic bottleneck at the city end of the Eastern Freeway is intolerable and cannot be fixed by minor works. The RACV has even proposed tolls to fund the project, which it says is only a last resort.