Bicycle Land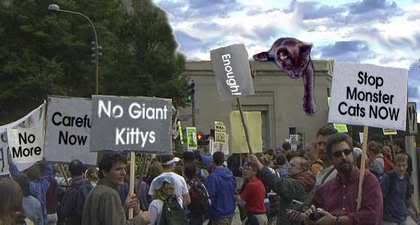 Giant kitty rampages through Sydneys west on a quest for bloody revenge, possible sightings in Victoria and South Australia soon.
Image courtesy of
Dalliance
Sydney:
Youth pleads guilty to kitten attack

A teenager who tortured a kitten at a Sydney railway station pleaded guilty today to aggravated cruelty to an animal. The 15-year-old, from Old Toongabbie in Sydney's west, was one of three youths accused of the attack on an eight-week-old kitten at Seven Hills railway station on January 16. The kitten's leg was broken after it was twice run over with a bicycle, stomped on and stoned. It also suffered a range of internal injuries.



Here's wishing for a giant b3ta kitten hunting down the little scrot, and doing an absolute job on his sorry arse.
Melb:
Circus act in hospital

A Circus performer was rushed to hospital in Melbourne last night after falling seven metres from the highwire he was riding a bicycle on. Argentinian performer Enrique Gustavo Barralle Martinez, 31, was balancing his sister, Viviana, on his shoulders when he fell to the floor in front of an audience of about 350 people at Circus Royal.



Mr Martinez, a speedy recovery to you!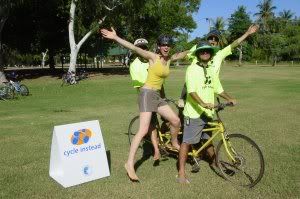 WA:
Tour de Broome

You'd look sweet, upon the seat of a bicycle built for...four? Mark Wilson, Kayla Mindarl, Wade Freeman, and Ushan Boyd explore the limits of tandem bicycle possibilities at the Tour de Broome.Pedal power on the highways & by-ways. With the latest figures on per capita rates of car ownership putting Australia second only to the USA, it relaxed the lungs some what to see a bicycle event in Broome attract great support.
Tassie:
Relax, Joe's got the idea
When he was a child, Joe Askey-Doran would experiment with a pulley device in his bedroom to turn out the light without leaving his bed.Little wonder he's the toast of TV's The New Inventors, and won the viewers' prize last night for his revolutionary and incredible Anchor Hammock. And there could be more to come. He's working on a very special new type of bicycle, which is a bit hush-hush right now. Among his previous inventions is a three-flanged bicycle wheel for street racing. It's hardly surprising he invented such a device, given his background in cycling. A decade ago he was a leading amateur cyclist in France and won the French time trial championship.

We're working on something a little special too, can't say too much though.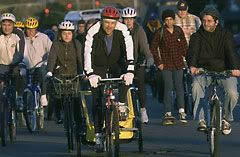 Bicyclists hoping to hit Critical Mass

In Modesto's first Critical Mass bicycle ride in February 2004, about 25 riders and a couple of skateboarders participated in the event. Here, bicycle riders take an eco-friendly approach to Needham Street. Bicycle riders in Modesto want respect, starting with courteous treatment from motorists; and, as long as we're dreaming, say Brian Robinson and Doug Gilbert, a few more bicycle lanes would be nice, too. Robinson and Gilbert are working to put together a mass bicycle ride Friday afternoon, known as 'Critical Mass.' 'Basically,' said Robinson, 'we're trying to give Modesto an eco-friendly approach to transportation in the city. 'There are a lot of people who ride bikes in Modesto who tell us there aren't enough bike lanes. People are frustrated about the way bike riders are treated (by motorists).'
Meares a marked woman at cycling titles

Olympic champion Anna Meares is happy to find herself a marked woman at the track cycling world championships starting in Los Angeles on Friday. The 21-year-old Australian has discovered Olympic success makes her a target, with international competitors working on strategies to blunt the lightning speed that helped earn her the 500m time trial gold medal in Athens.



We were lucky enough to catch the 2004 UCI Track Cycling World Championships in Melbourne, more here about the 2005
Track Championships
in Los Angeles.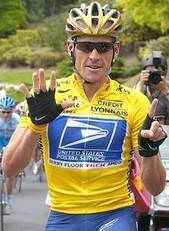 Armstrong doubtful for Brabantse Pijl
Discovery's sporting director Dirk Demol has told the Belgium Press that Lance Armstrong is unlikely to ride the Brabantse Pijl. Demol, who looks after the Northern racing scene for the team, explained that Lance's participation was doubtful due to the American's decision to ride this year's Tour.

So much for ditching Le Tour to concentrate on the Classics, huh? No. 7 in the works?