Stuffing around Victoria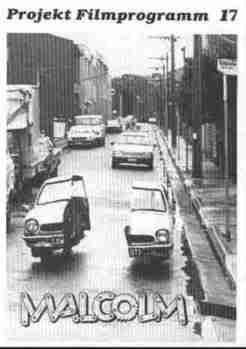 Possible 'Malcolm' homage in Williamstown Road

A car was split in half and wreckage spread down a Melbourne street after a collision tonight. Two drivers involved in the crash escaped with minor injuries and have been taken to hospital. But police are seeking witnesses to the accident and are appealing to members of a football team believed to be training at Port Melbourne when the accident happened. Police said a dark coloured Holden Commodore was travelling west along Williamstown Rd about 8.10pm (AEDT) when it struck another Commodore, which was turning right into Beacon Rd. The second car was split in half and police said the wreckage was strewn 30m away.



Ok, for those who came in late, yes, we're talking about
Malcolm
and that now famous
getaway car split.
This inadvertent reenactment wasn't as amusing, luckily the occupants only incurred minor injuries. Sadly, unlike this Easter weekend to come...
Police call for zero holiday toll

Four people died on Victorian roads yesterday as police and emergency service workers pleaded for motorists to take extra care during Easter. Assistant Commissioner (Traffic) Bob Hastings said the past week had been a disaster. 'We had eight people die over a three-day period from last weekend and the weather was fine. Why is it these things occur?' Mr Hastings challenged drivers to make this Easter fatality-free.

Hope your wish comes true, Bob. But unfortunately, crushing reality has stacked it's odds against it.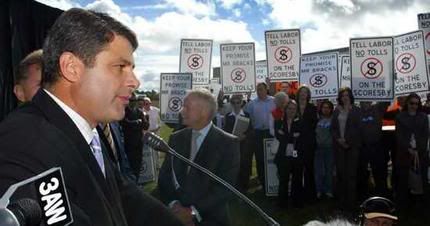 Naming and blaming launches tollway

It will be easier to find in the Melway. That's one of the reasons Premier Steve Bracks gave yesterday for the latest renaming of the troubled arterial formerly known as the Scoresby freeway. At a ceremony peppered with interruption by protesters, Mr Bracks and Transport Minister Peter Batchelor were shouted down as they announced the tollway's new name, EastLink.
I'll give you a tip, the end result will be easier to find on Melways 44 E3.
Congestion tax ruled out

Australia's capital city councils have ruled out a London-style congestion tax to discourage motorists from entering our already crowded CBDs. Perth already has a quasi version, otherwise known as the Perth Parking Management Area, but Brisbane Lord Mayor Campbell Newman was elected last year on a platform opposing a congestion tax and in Sydney and Melbourne there's little interest in taxing motorists to keep them out of the CBD.
So government isn't going to follow the lead of
Red Ken
, but going to charge tolls on 'Eastlink' (that's the funky nu name for Mitcham-Frankston for you plebs) and possibly the
Pacific Highway?
Ok, lets just keep monkeying around the issues....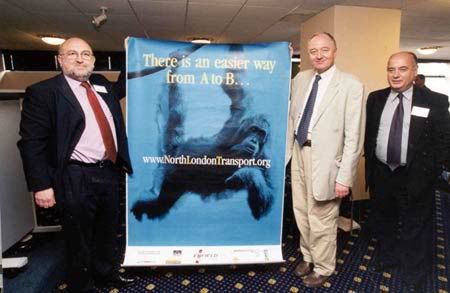 Urban brawl
The State Government's 2030 blueprint for Melbourne's growth is under assault. Does it reflect how people want to live - or is it an attempt at social engineering? Royce Millar examines the evidence. In 1954 the Metropolitan Board of Works - the city's town planners at the time - declared that Melbourne's die had been cast.

"It must be accepted,'' the board concluded, that with 50 per cent of Melburnians owning their own homes and 90 per cent living in detached housing, suburban living was "the general desire here''. It went on: "Any attempt to impose some other form of living upon people, however good the intentions and however sound the reasons, will certainly meet with failure.'

Fifty years on, the argument that Melburnians are somehow rusted on to their lawnmowers and Holdens has returned to dog the Bracks Government in its attempt to reshape the city.

Like the Board of Works, Birrell believes the suburbs are set on an outward trajectory. It is better, he says, to accept the fact and focus on better planning for urban frontiers; to accept that car-based development on the fringe as Melbourne's ordained future.
Mr. Birrell believes in some Jetsons-style utopian future where the smog-boxes miraculously metamorphoses into smart cars, oil production never peaks, the economy never falters and traffic problems disappear due to mass hypnosis. If this idiotic attitude prevails, Melbourne's got two chances, Buckley's and none.