1st July 2005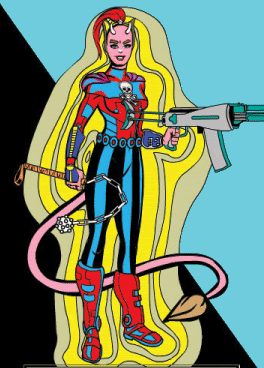 Today I'm peeved and grouchy, the weather's too dodgy to go out and play.
Today Johnny 'Connard' Howard gains control of both Australian houses of parliament. For incisive political analysis, read these erudite bloggers: Cut Price Commentariat, Larvatus Prodeo, Daily Flute, The Road To Surfdom and Senator Andrew Bartlett.
What's this alluring image to the right you say? 'Tis the HeroMachine 2.0u found via Flaming Goddess.
The cfsmtb version finds our heroine severely pissed off, politically disillusioned, and suffering from two forms of chronic tourettes. Dare mention the words Labor Unity within earshot and she goes totally berserka. Not work safe at all.