Holy Bicycles Batman! Cycling News mentions Critical Mass!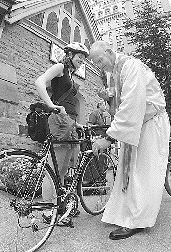 Will wonders never cease? For further signs and wonders, read the article on "Blessing of the Bicycles". Also read the previous cileo blog entry on
spirituality and bicycles
. I firmly believe the '3-in-1 oil' would be a cheaper and wiser proposition than the going rate of 60 quid a barrel.
Bloomberg:
Crude Oil Trades Above $60 on Concern Over Iranian Production
Radio Nation - The National Interest:
The future of oil
Worried? Then stop worrying, find ideas and inspiration via
BikeFix
Vancouver Bike Month attracts over 1200

History was made yesterday in Vancouver as cyclists took to the streets in the largest numbers yet. In celebration of Bike Month, bicycle advocates called for 2000 + 5 wheels and handily topped their target by pulling over 1200 people to the event as cyclists joined the rolling mass of bicycles, skate boarders, and in-line skaters.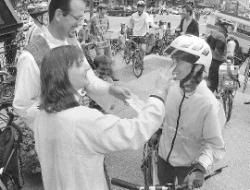 Vancouver's bikes are blessed, anointed with '3-in-1 oil
Bicycle is symbolic of an ecologically responsible lifestyle,' reverend says
Rev. Emilie Smith of the Anglican Church and Rev. Peter Fischer, a Lutheran, blesses bicycles and bicyclists at Christ Church Cathedral in downtown Vancouver Friday afternoon. A dab of sunscreen went on the nose and a drop of oil on the chain of bicycles. About 50 people stood on the steps of Christ Church Cathedral with their bicycles Friday listening to the ringing of bells. Bicycle bells, that is. Mounted on bicycles wearing their bike helmets and rain jackets, the cyclists rang their bells to start Vancouver's first blessing of the bicycles event aimed at promoting cycling as an alternate means of transportation to the automobile. Reverends Paul Borthistle and Emilie Smith of the Anglican Diocese of New Westminster and Rev. Peter Fischer of Christ Lutheran Church led the blessing, that included the sprinkling of holy water over cyclists and the anointing of bicycles with "blessed 3-in-1 oil. (more wondrous tales in article)