Clifton Hill intersection + Stonnington Bike Strategy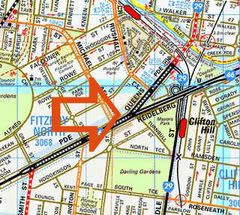 Yes: THAT pesky traffic sewer, um, er, intersection RIGHT THERE
Sorry to tear you all anyway from the TdF coverage, but here's two items of importance for Melbourne cyclists. First up, that freaking awful intersection in Clifton Hill. Yeah, you know the one, located somewhere at Melways Ref: 30 D1. Do you have a (very strong) opinion about this intersection? Do you agree with Roger's comments (refer letter below), or do you have additional suggestions or criticisms to make? City of Yarra have previously investigated options for this problematic intersection in 2003/04. But VicRoads
Road Management Act
has changed local councils responsiblities. So where to now? Contact CoY
,
VicRoads and Bicycle Victoria
so that stroppy cyclists, er, concerned citizens can lobby together to get action happening. Well, something. Problem solving skills or witty rants very welcome, so contact YarraBUG if you want to assist in this local campaign
yarrabug@yahoo.com.au
PS, If anyone knows Roger Barnett, can you get him to contact us, ta.
"Intersection a tragedy waiting to happen" Letters: Yarra Leader, July 4th 2005
The intersection at Clifton Hill where Queen's Parade, Lower Heidelberg Rd and High meet is a nightmare for cyclists. Cars and bikes don't mix well at the best of times. However, at this location only the very best defensive driving from both parties is enough to avoid tragedy. As a cyclist I have nearly lost my life twice at this intersection. The intersection is big, busy,and fast; it's never going to be particularly safe for cyclists. However, the worst problem is when bikes are travelling east, trying to continue into Lower Heidelberg Rd from Queens Parade.Vehicles wanting to turn left into High St are inevitably going to clash with bikes going straight ahead. In a situation like this a complete rework of the intersection is called for, but a simpler alternative maybe to erect flashing "give way to cyclists" signs along with a clearly painted bikepath. If a messy death is to be avoided, fixing this interesection must be an extreme priority. Not to attend to it is baiting fate and is not in keeping with the good work VicRoads and local councils have done to make cycling a safer alternative. Roger Barnett, Heidelberg West.
Annoyed? Concerned? Peeved? Nifty Tips to get you started:

Letter Writing Tips
::
VicRoads Online Feedback
::
Consulting with Cycling Stakeholders

VicRoads Postal Address: VicRoads Head Office Administration 60 Denmark Street, Kew VIC 3101

City of Yarra Postal Address: PO Box 168, Richmond 3121 Email:
info@yarracity.vic.gov.au
Ph: 9205 5555 Fax: 8417 6666

Bicycle Victoria: CC a copy of any correspondence to Bicycle Victoria at
campaigns@bv.com.au
or post a copy of the letter to: GPO Box 1961 Melbourne Vic 3001

Yarra Leader Postal Address:2nd Floor, 192 High Street, Northcote 3070 Email:
melbourne@ldr.newsltd.com.au
Ph: (03) 9489 2222. Fax: (03) 9481 2083

Please remember to CC. any correspondence to:
yarrabug@yahoo.com.au
Down South of here...Stonnington Bike Strategy - HAVE YOUR SAY
The Stonnington Bike Strategy is open for comment until July 29. The City of Stonnington has just released its Draft Bicycle Strategy. Stonnington borders the City of Yarra on its southern flank, along the Yarra River between Punt Rd & the Gardiners Creek Bridge. Public comment is being sought about the Draft Bike Strategy. ::
Stonnington Bike Strategy Introduction Page
::
Download a PDF of the draft Stonnington Bike Strategy
::
Have Your Say on-line
::
UPDATE: many thanks to those lovely folks who are firing off emails to CoY,VicRoads & BV, keep sending them cc. to
yarrabug@yahoo.com.au
Something else, slightly unrelated has just cropped up. Ah, don't know whether to cry or lace up the sparring gloves and take the conniving bastards head on. Uphold the Right. Yeah, right.