It's On For Young And Old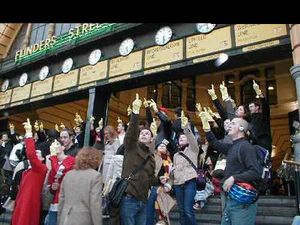 And here are the

Top Secret Instructions
:
Here we go again! 5 days to go! The next Melbourne Flash Mob will be this coming Saturday around 3pm@ a secret location possibly within central melbourne, but possibly not. In order to receive notification/instructions on the day you'll need to submit valid details sometime this week

www.melbourneflashmob.org

- once I find those darn keys to open up the subscription facility again of course! Should be open within 24 hours. Also, feel free to send the word out to any email lists you thinkwould be interested. The more flash mobbers we have the more stunned the passers by will be. If you know anyone else that might be interested in participating, don't forget to let them know, too. Happy happy joy joy!