Race 7: Picking a winner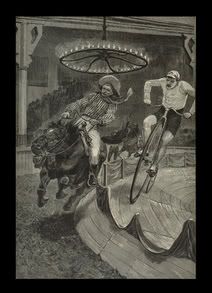 1887 Melbourne Cup: Dunlop takes on race favourite Penny Farling by a neck
Ok, ok,
the race that possibly stops the nation
. Whatever. So, have you got
any tips
? Like you've got a surefire hot tip from a bloke who met another bloke down the pub who may know another little bloke who overheard something in passing from another bloke who might be a strapper?
The Diva
? Well, the tracks rated dead.
Storms forecast for this arvo
? Know of any mudlarks in the 24-strong field?
Vinnie
? Eye Popper? Why don't I spent the arvo constructively by fiddling around with one of the Fleet? Yeah, finish off
yet another
configuration of the road bike. Oh bugger haven't got the tektro levers yet. Might go fer a ride before heading off to the Dirt Crits. Might not. Decisions, decisions...