Spinning the Meedya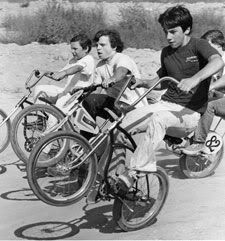 Here's an all-too-brief overview of alt cycling media .... given enough momentum I'll possibly start podcasting selected cileo highlights, al la
Sheldon Brown
. From New York springs forth
BikeTV
:

Like Mulder and Scully, we've investigated a myriad of the bike paranormal and have determined this fact: one day bicycling will save the planet!

Possibly. And then there's the wonderful
Go By Bicycle
:

Remember when you first learned to ride a bike? Think back for a second. It's just as much fun now as it was then.

Throw a few shekels via paypal & get the zine too.
Cyclemedia
: No, it's not a uber dodgy concept selling advertising space on bikes. It's run by one Lauren 'Dances With Cars' Cooper.
Is it safe to bicycle on the road? Absolutely! It is safer overall than motorcycles, ocean-swims, horse-rides, climbing ladders and tanning!. Please note that 9 of 10 bicycling injuries are just falls -- no car involved. Despite millions of children who squirrel around unpredictably on bikes, fewer than 1 in 70 car/bike collisions is fatal; and 2 of 3 of cyclists walk away after treatment.
Yes indeed.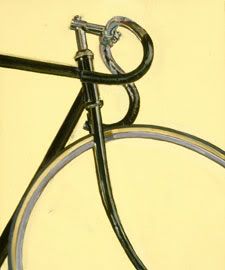 From Los Angeles

: We are totally enthusiastic to present the Fifth Annual Bicycle Film Festival. Up to 7,000 people attended in NYC alone, LA was amazing, and all of the screenings sold out in London. San Francisco is next, get ready. A fervor is brewing for bike culture in global urban centers. The films in the festival reflect the unadulterated passion cyclists have for their rides. The film program is amazing. We have a lot of fun stuff planned as well. Ride your bike over and have a good time. Thanks to all the Filmmakers, Bikers, and Sponsors that help make this awesome event happen. Brendt Barbur, Director
P.S. Bikes Rule!
Hmmm,
not quite yet
, presently we're more akin to small mammals in the times of dinosaurs. More food for thought from Chris Carlsson: Critical Mass is Thirteen: The Culture War is Older (and far from over)
Amazing to think it's been 13 years since the first "Commute Clot" brought together about 50 bicyclists at "PeeWee" Herman Plaza at the foot of Market Street in San Francisco. Within a few short months it had gained the moniker "Critical Mass" and the excitement and euphoria and sheer novelty of an "organized coincidence" that fills the streets with bicycles instead of cars was rapidly reproducing itself across the planet.



Image courtesy of Moz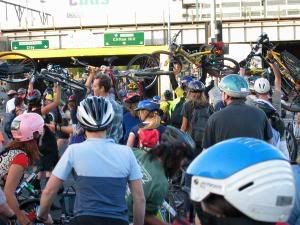 More Cycling Meedya: unfortunately if you read the November edition of Bicycle Victoria's magazine Ride On
™
, the Critical Mass article on page 22 displays a passive-aggressive approach. Or put succinctly, a longterm systemic misunderstanding. No other cycling organisation in Australia conducts themselves like Bicycle Victoria.

No

other cycling organisation criticises Critical Mass to the same extent. A professional, pragmatic stance would be "yes, we strongly do not agree, but it's a democracy". And leave it simply at that.

From the BV website:
Bicycle Victoria is an inclusive cycling organisation that values your feedback. Our relationships extend from small grassroots collectives – such as local Bicycle User Groups – to large government bodies and private companies. All of these relationships are essential to our aim of
More People Cycling More Often
.


Consider this, Critical Mass did warmly extend the hand of friendship back in 1996 when a joint meeting was organised with Bicycle Victoria management. Pity, the then CM 'collective' were harshly slapped down for their efforts by BV management, and a potential bridge-building exercise went to shit. I'll leave you with this thought. If Bicycle Victoria had effectively conducted their various roles during the last decade, Critical Mass surely wouldn't have attracted the community support to continue thriving in Melbourne. I bid you all a pleasant weekend.