Maybe there's a God of Small Miracles?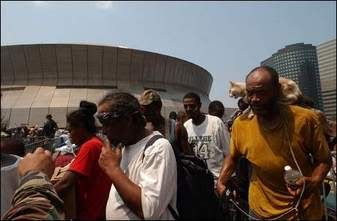 Joseph and Patches, as last seen on Sunday afternoon
Yes I've transgressed for the second time, this isn't a bicycle orientated story. Head over to Barista
for superb coverage of the tragic aftermath of Katrina.


Amongst the immeasurable pain of New Orleans and the Gulf Coast, small moments of joy still abound.
Joseph and Patches
are still out there.
Somewhere
.
Where are they?
People are looking for them!
Saturday afternoon Update 10/9*:
Hi Chris
They found Joseph Barnes in Arkansas but Patches is still in NO. The National Guards made him give her up but he says that they told him that he can come back and get her. We don't know who he gave her too but he told Barbara that Patches was ok. Amazing how some people will not give up. Just wanted to let you know.
Karen
*cfsmtb note: Isn't the internet

wo

nder

ful

?!?
From

Wonkette

, more places to help animals and their humans


:: Noah's Wish
:: The Houston SPCA
:: The ASPCA is creating a database to connect abandoned pets with their displaced owners and is trying to coordinate temporary shelter space and rescues missions.
:: Best Friends Animal Society Hurricane Relief Fund, 435-644-2001 ext. 104
:: Humane Society of the United States Disaster Animal Response Team, 800-HUMANE-1
:: Louisiana Society for the Prevention of Cruelty to Animals