Schembri, He Wanker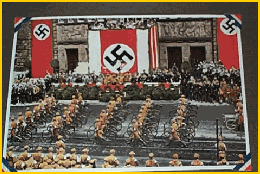 Don't think this image is what Jimbo actually implied, but he doesn't know WTF he's talking about anyway.
From The Age:
Join the Bike Nazi Party
I'm not even going to bother quoting Jimbo's so-called witty prose. Needless to observe though, he's clueless and embarrassingly out of his depth. Yawn. But one aspect amuses me about Jimbo, take a Captain Cook at his
picture
. We share the same decade of birth, and sweet creeping zombie Jesus, I look a lot healthier. Then again, I also share the same decade of birth with
Old Rice and Monkey Nuts
. Scarier. Apologies for paraphrasing this next well-known anecdote, but give me a bowl of alphabet soup and later on I could shit a better article than this.

Superb, ahem, tasteless timing by The Age, re: Thursdays terrible incident in Collingwood, Warning, this photo may disturb you. This brings back haunting memories of another frontpage photo, of an incident on the Merri Creek bikepath several years ago. A young man while out riding, with his dog running alongside, was stabbed and killed by a mentally-ill man. His loyal dog tried to protect the body when paramedics attended. Near Quarries Park there is a permanent memorial to him along the path.
Now, in a attempt to cheer myself up, Todays entertainment, watch this thread:
The Age article on web site
. Enjoy.