I'm Fungry!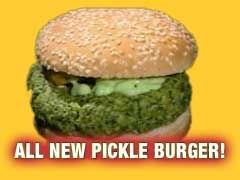 Amongst a host of road issues in the meedya, the last paragraph of this one accurately illustrates the shallow priorities of Melbourne's younger road users. Makes many of my cycling exploits (in search of food & beverages) look relatively tame by comparison.
Bloody callow whippersnappers.
P-platers face phone ban
In some cases, they had held a licence for just a few weeks. Others offered feeble excuses for their behaviour. Last month, a 23-year-old Docklands P-plater booked at 206km/h on the Eastern Freeway at 3.10am

told police he did not realise they would be working so late

. And in June, an Altona P-plater, 19, nabbed doing 173km/h on the Princes Freeway at Laverton

said he was going to Carlton for a kebab.....
Feeling Fungry? Sod the kebab, try the
All New Pickle Burger!