There's sun glare on Gardiners Creek Bridge..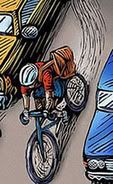 After reading our friend FD's comments on this a.b thread, we thought it would be a smashing idea to contact Hillary Harper to suggest Melbourne 774AM should have a ride report. As Hillary cycles to work...and does the 774 Traffic Report Updates..yes.. that is rather ironic..

So this morning, Hillary did indeed give a RR at approx 6.30am. Problem was, I wasn't awake to hear it. Hmm, must get up earlier & send off a thankyous to 774 management. Did anyone else hear Hilary's RR this morn? Feedback, thoughts please? Ok, Ok, I'll be up at sparrows fart to hear further editions.