Twunt Report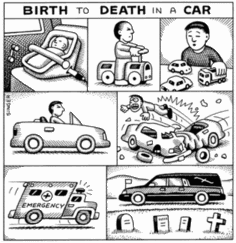 Out and about on the bike today, as I had to visit & cheer up a dear friend who had received bad news. But had a strange incident, you know, the one where you're stopped on the bicycle storage box at a red light, and the vehicle behind you keeps inching up. And slowly inching up. And slowly keeps inching up alongside.

This was at the T-intersection at Blythe & Sydney Road in Brunnie, the one where if you're heading up to Coburg, you lanesplit & turn right. Back to the inching up, the left front tyre almost went over my right Axo shoe. So I calmly and tactfully move my tootsie out of harms way, and think, hmmm, how about I carefully take off against the lights, cane through the intersection and put this twunt in the running for a Darwin Award? ie: he shoots through into moving traffic due to being

needlessly provoked

by a small, stationary female minding her own business.

But I behaved myself, and Mr Twunt duly floored his 4 cylinder P.O.S up the gentle incline towards the delights of Coburg. Sheeesshhh. But this little altercation is small beer compared to this disgusting incident in Brisbane. Subtext, I kicked off this thread on a.b after reading about that road rage incident. On a proactive theme, more Goatage and WoJ stuff on this Friday. Be there.