A bagful of money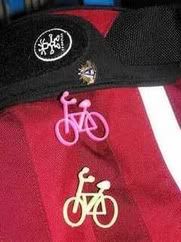 As used & abused by cfsmtb management

From Tokyo to New York,
Crumpler bags
(Use
BugMeNot.com
to 'register') are a must-have for the ultra-cool. But as Renee Barnes discovered, this booming business empire had a humble birth in the back lanes of Melbourne. It was with modest ambitions that the three partners of Kensington-based bag manufacturer Crumpler started their business.

'We just wanted to be able to pay the rent and have enough for a beer at the end of the day,' says partner David Roper. To say that Crumpler has exceeded their ambitions would be an understatement. Today, Crumpler is a multimillion-dollar company and its distinctive bags are sold around the world. Roper and partners William Miller and Stuart Crumpler began their bag empire in 1999. At the time, Roper and Miller were owners of a bicycle messaging company, Minute Man, and Crumpler was a part-time employee.