Freed from a life in detention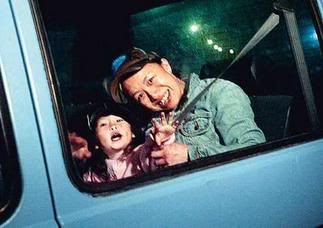 But are Virginia and little Naomi truly free of Australia's incompetent immigration authorities?
Freed from a life in detention

Naomi Leong, the three-year-old girl who has spent her life in detention, left Villawood with her mother last night after the Government gave them a bridging visa to stay in Australia. The decision to release Virginia Leong and her daughter from the detention centre was unexpected but supporters believe the Government bowed to pressure over the mental health of detainees. Ms Leong, who had complained that detention was causing Naomi to bang her head against the wall, was overjoyed last night. "I am so happy now, I am so happy, I can't believe it, I am just out here, out of detention - outside!" she said. "I thought it was a trick when they gave me the forms."

Earlier inside the centre she said: "Naomi doesn't understand what is happening but I have just told her we are going to see a friend and she is excited." The office of the Immigration Minister, Amanda Vanstone, said it was not her decision to free them but her department's. A department spokeswoman said the decision followed discussions between Ms Leong, her lawyer and the department. She refused to say why they were being released.

As mother and daughter left the detention centre to spend the night at a friend's home in Parramatta, supporters presented Naomi with a pink bicycle, which she rode around in circles on the pavement. Ms Leong carried virtually no possessions, saying she had left them with other detainees.


chilout : children out of detention
Refugee Action Coalition (New South Wales)
New Matilda
Time to add some heart to the immigration shambles
Immigration Department yields to psychiatrist's requests
The Virginia and Naomi Leong Case: In the depths of despair