Fishnets & Safety Pins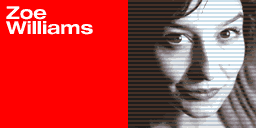 A chirpy article by Zoe Williams:
My way or the highway
in last Saturdays Guardian.
Forget everything you learned as a kid. If you want to cycle safely nowadays, you need a pair of fishnet stockings, a mouthful of razor blades and Zoe Williams's rules of the road.

Note, an fascinating tangent here. I know of several cyclists in their 30's - 40's who are old/ex Punks or Goths. Yes, it's the tight-fitting attire, zips, buckles, clasps, metallic finishings and almost fetishitic adherence to technology. (ssshh, I won't tell if you don't) Or maybe not. Another tangent, here's some mischievous young people from Copenhagen North: punk bike thrash battle destruction mayhem derby till death Anyway back to topic, Zoe goes on to make several pithy cycling remarks, then concludes with this killer remark:

A social observation
The kind of person who routinely prefixes "cyclist" with "kamikaze" is exactly the kind of person who prefixes "asylum seeker" with "bogus"
Now on cue,
Tony Hadley
shouts..........Gold!