I'm in the middle of the desert, and I've found a PUB!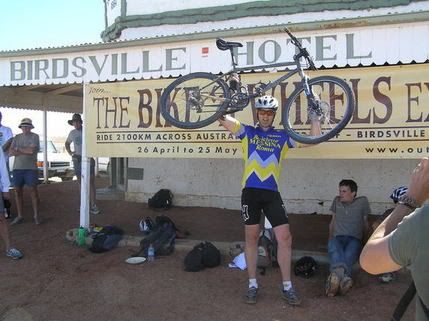 May 10: Arrival at Birdsville, Velophile and the Kona Travesty celebrating their good fortune
Just received several lovely piccies from Velophile. All praise the internet cafes of Mt Isa! Thats cheered me up considerably. I'll post them up on flickr soon-ish.

UPDATE: Flickr Gallery, look to your left.
Also this just appeared via ABC Online.
Cyclists head north on across-Aust trek
A group of amateur cyclists has arrived in the far south-west of Queensland on a gruelling journey peddling across Australia. The 35 cyclists are part of the Bike and Wheels Expedition - travelling 2,000 kilometres from the Spencer Gulf in South Australia to Queensland's Gulf of Carpentaria. One of the organisers, Ralph Jackson, says the group will set out from Birdsville today, heading north to Bedourie, Boulia, Mount Isa and up to the gulf.

He says at the half-way point most riders are enjoying the experience. "Half the riders would be people over 60 or 70...so that's where the typical rider is...mostly retired blokes, it's actually a good holiday...you need to pad up your handlebars...but just being out there in the landscape, you hear things, you see things that you don't pick up when you drive," he said.