Nice work from Honda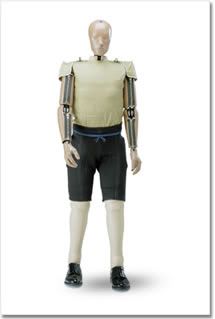 One catch though, can drivers be re-trained to take full opportunity of these new features? Like adhering to speed limits, road laws and utilising grace and common sense. Suppose that's bit of an ask though. Back to topic, the shortpants look uncannily like knicks. Or is that pure co-incidence?

Honda - Pedestrian Safety

In keeping with Honda's "Safety for Everyone" concept, future Honda models will also incorporate Honda's latest thinking in pedestrian-friendly body design. New models will take advantage of industry-leading pedestrian-safety research conducted at Honda's state-of-the-art crash-test facility in Tochigi, Japan. Already, more than two million U.S. Honda and Acura vehicles, including the 2005 Accord, Civic, CR-V, Element and Pilot, along with the 2005 Acura RL, RSX, TSX and TL, are equipped with a number of these features. They include specially designed hood frame construction, hood hinges, front-frame construction and breakaway wiper pivots. Honda has independently developed the most advanced pedestrian test dummy in the world, called POLAR II. With unique, human-like joint structures, instruments in POLAR II measure the level of injury in eight regions, including the head, neck, chest, abdomen and legs.
Meanwhile, back to Australia's nice safe roads...

Coroner attacks 'comfort zone' of 4WDs

Owners of four-wheel-drive vehicles have a "sense of superiority" and act like they think "they've made it", according to evidence before a Sydney coroner investigating the death of a five-year-old girl. Bethany Holder was run over and killed by a red Nissan Patrol with a bullbar inside the grounds of Pittwater House School at Collaroy, on Sydney's northern beaches three years ago. "We see these types of vehicles involved in pedestrian deaths far too often," said senior deputy state coroner Jacqueline Milledge on the opening day of the inquiry in Glebe Coroners Court.

After hearing evidence from road-safety expert Raphael Grzebieta, Ms Milledge criticised the way some drivers of 4WDs behaved. "What happens to them? They get in and there is a comfort zone, a sense of superiority. They are above it all," she said. Dr Grzebieta said there was a status aspect to the attitude of 4WD owners. "They've made it if they've got a 4WD. It's a status symbol," he told the inquest. "Really, in the urban areas we do not need bullbars." He called for 4WD drivers to undergo extra training and be tested for a special licence. Bethany's mother, Lisa Holder, described a recent Nissan advertisement offering a free bullbar with every Nissan Patrol as "repulsive". "I don't think it's appropriate in metropolitan Sydney to be giving away free bullbars. There are other options available to them such as CD stackers and airconditioning." Senior Constable Aram Kraefft told the inquiry that only staff vehicles should be allowed in school grounds. Constable Kraefft said Mrs Waterhouse probably would not have been able to see Bethany over the bonnet of her 4WD. The front of the Nissan Patrol was 110cm high and Bethany was only 102cm tall. Outside the court, Bethany's father, Daniel Holder, asked for all cars to be banned from school grounds. The inquiry continues today.

Repulsive is only one aspect. Dangerous, idiotic, arrogant, pig ignorant also come to mind. Discussion here: Coroner says: 4WD licence!! on aus.bicycle. See you tomorrow at the Melbourne
::Ride of Silence::
. Two rides,
Black Rock
and
Fed Square.