Even the Devil Cheers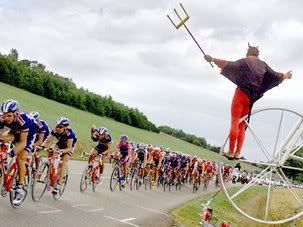 After yesterdays bout of God-bothering, may we make amends by introducing Mr Didi Senft,
Devil of the Tour de France
Why the 'Devil'?
Born in 1952, Didi has long been a fan of the Tour de France. He noticed that the German television commentators would call the final kilometre of each stage 'The Red Devil's Lap':

They always called the final kilometre of a criterium [stage] the red devil's lap. I never saw a red devil, so I became one.