AIS Womens Bunch Hit in Germany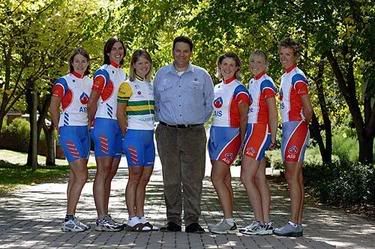 AIS 2005 squad
with coach Warren McDonald
Be strong, our thoughts are with you
Just heard on
ABC
news 10am bulletin. Check
Cyclingnews
,
AIS
and
CA
during the day.
Cycling News Flash for July 19, 2005
:
Australian team rider Amy Gillett dead after crash
Australian rider Amy Gillett has died after she and other riders from the Australian women's team were hit by a car during a training ride in Germany on Monday. Three other team members are reported to be in critical condition after being helicoptered to hospital, and the remaining two are also still in hospital, albeit with less serious injuries. The other riders involved are Katie Brown, Lorian Graham, Kate Nichols, Alexis Rhodes and Louise Yaxley; all are being treated in hospitals in Leipzig and Zwickau.

The team was riding along the Landstrasse between Zeulenroda and Auma (Kreis Greiz), reconnoitering the course of the opening time trial of the Thueringen Rundfahrt stage race which was scheduled to start today. A car driven by an 18-year woman entered from a slip road on the opposite side of the road. The driver, who had passed her test just four weeks before, apparently lost control of the car and crossed into the lane where the team was riding, hitting all six riders. The first stage of the Thueringen Rundfahrt has been cancelled. A service of commemoration will be held instead. Everyone at Cyclingnews sends our condolences to Amy's family and friends.



::

Fatal crash devastates cycling community

::

Top Australian cyclist killed

::

From Olympic rower to cycling world champion

:: ABC:

The World Today

:
:
aus.bicycle thread
::
Australian Cycling Federation Media Statement
:: Cyclingnews
Tribute, July 19, 2005
To send messages of sympathy to Amy Gillett's family & friends, email:
acf.info@cycling.org.au
Tragic incidents such as this, transcend any "us vs them" tribalism prevalent in the cycling universe.
We all love to ride
Simple as that
Latest News Updates