Possibly not Earl Grey, two sugars + soy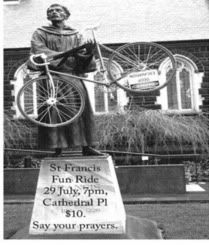 Ok, I'll put it on the blog.
Did someone say 'all*yc*t'? Spread the good word for the St Francis 'Fun Ride' this 29 July 2005. Checkpoints announced on the night. Out of towner/non-courier friendly. Cash prizes and schwag, and hopefully a custom bag to the winner! Say your prayers and join the mass - not the critical one. forward the message and go in peace. amen. www.fyxomatosis.com
Not everyones cup of tea

I believed
Madonna del Ghisallo
was the 'patroness' of cyclists.
St. Francis of Assisi
,
the patron saint of animals and the environment. Idly ponder for a moment; fixies, all*yc*t rides, positive multi-pluristic attitude....and next Friday night is Cr*t*cal M*ss. Yes, now it makes perfect sense.
Email this lad for details.