Where freedom is strong and people can live in harmony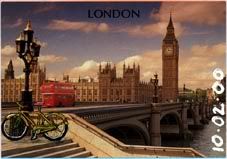 Ken Livingston
"I want to say one thing: This was not a terrorist attack against the mighty or the powerful, it is not aimed at presidents or prime ministers, it was aimed at ordinary working-class Londoners," "That isn't an ideology, it isn't even a perverted faith, it's mass murder. We know what the objective is. They seek to divide London."
"Black and white, Muslim and Christian, Hindus and Jews, young and old," he said. It was an "indiscriminate attempt to slaughter, irrespective of any considerations for age, class, religion whatever."
Then addressing the attackers Livingston vowed: "I know that you do fear you may fail in your long term objective: to destroy our free society. And I will show you why you will fail. In the days that follow, look at our airports, look at our seaports and look at our railways." "Nothing you do, however many of us you kill will stop that life ... where freedom is strong and people can live in harmony ... whatever you do, however many you kill, you will fail."
UPDATE: Mayor condemns 'cowardly' act: London Mayor Ken Livingstone was visibly shaken as he delivered a speech in response to the bombings. Read it in full here
The humble bicycle rises to the occasion....
Bicycles sell out in London

Bicycle stores in Central London reported brisk sales on Thursday as commuters in the capital sought alternative methods of transport, after the suspected terrorist attacks on the city's public transport system. With taxis in short supply and services canceled on both London's underground railway system and its central bus network, commuters are flocking to the city's bike shops in an effort to get home.
Reuters AlertNet - Cycle-mania grips London in wake of blasts

London's streets creaked and rattled with nervous new cyclists on Friday after bicycle sales rocketed in the wake of bomb blasts on three underground trains and a double-decker bus.


BikeBiz: bicycles got commuters home

Following yesterday's terrorist attacks on London's transport network, IBDs and cycle hire shops reported brisk trade as Londoners attempted to get across a city all but closed to cars and with no tube trains running and a bus service not operating in zone 1 of central London. But there was no profiteering from bike shops. Some hotels, on the other hand, tripled their prices within hours of the bomb blasts...
Updates:
BBC London - London Homepage
::
BBC News :: News Front Page