TdF: Stages 3 - 10: Big Red Returns From The Shops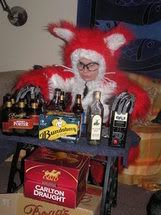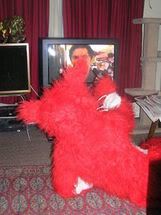 Drinkies and flipping the bird at Gabriel
Continuing with Le Big Red Fat Cat's pissweak Stage by Stage TdF commentary.
Trackback to
TdF: Stage 1 & 2 - Down the Shops
and
Le Tour bonheur!

Stages 3 - 6: Le Kitty back from the shops with plenty of provisions & bevvies. The Cat settles in for a mega session of Russ's
TdF Drinking Game
until July 25. Between the Chivas, Goon, Honey Porter & Bundy, it's gonna get gruesome. So please spare us the sauteed snails, larks tongues in aspic and jaunty accordion toons. Garçon, bring us more Kirsch!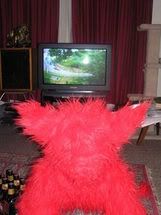 Twittering at the birds. Oooo Lalala! Lance spins up the mountain
Stage 7 - 10: Le Kitty sculls three Scotch fingers and starts yipping at birds on telly. Stage 10: In awe of Lance's cadence...introducing
Oppy
the kangaroo who's also keeping tabs on Le Tour. But it's all ghost written of course. We all know roo's can't talk. Whats up skip? A Russian doping conspiracy? crikey! Can't get enough Silly Cat links? Well, pop over to my Other Other blog: Beers and Kittys

NB: Cileo Plushie/Furry Disclaimer