And Now....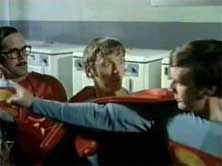 ...it's time for another generation to be gently introduced to the classic Monty Python
Bicycle Repairman
sketch. For the Luddites amongst us, read the
sketch script
.
For non-Luddites with broadband/cable or unlimited patience, download entire Python shows
right here
Superman film: shot from below of Superman (Michael) striding along against the sky.

Commentator: (American accent) This man is no ordinary man. This is Mr. F. G. Superman. To all appearances, he looks like any other law-abiding citizen.

Pull back to reveal he is in a modern street full of Supermen walking along shopping, waiting at bus queues etc. F. G. Superman gets onto a bus. The bus is full of Supermen, most of them with shopping baskets on their knees. F. G. Supermen finds a seat...during the commentary the camera slowly tracks in on his face.

Commentator: But Mr F. G. Superman has a secret identity...when trouble strikes at any time...at any place...he is ready to become... Bicycle Repair Man!