BREAKING NEWS - The inside goss on Critical Mass 10!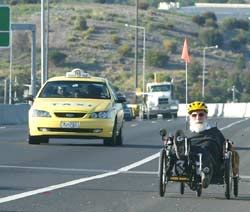 Six white boomers, snow white boomers, Racing Santa Claus through the blazing sun, Six white boomers, snow white boomers .. On his Aus-tra-lian run
We return our viewers to that breaking newsflash

Critical Mass are going nowhere near CityLink. Repeat. They are going nowhere near CityLink.
Now - r e l a x
Cease hyperventilating. Go and have that well deserved jam donut.
Never fear though, on Tuesday, Santa was seen doing a
early recce
over the Bolte. Hopefully he'll bring me that custom
Merlin Cielo
or ABC's new
Aunty Jack
DVD box set. Style tips for tomorrows ride. Dress to impress, light garb with
wet weather gear
stowed in the crumpler or panniers. You just never can tell. Was going to attempt a Salute to Aunty Jack costume, but as one is 1. female 2. barely over five foot, I thought the joke would be lost on the younger folk. I shall be attiring myself in apparel of a more demure nature. Sure to provoke discussion though ... Why TF was she wearing THAT?



Further goss

::

Melb IndyMedia:

Excellent wrap on
Cycling Issues in Melbourne ::

Taking Melb CMass10 Photos?

Upload them here & remember to tag them CriticalMassMelb. Or something similiar ::

Sad News from Russia:

Anarchist & Critical Masser Timur Kacharava Murdered by Neo-Nazis

Remember Timur, and honour his memory by riding with Critical Mass, regardless of what city you're in!