Welcome to Relaxed and Comfortable Australia!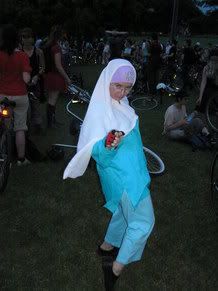 Salam dear friends - is it a bird, is it a plane? No, she's Super Hijab!
Social experiment, with yours truly as the 'guinea pig'.
Ingredients for this social experiment included:


- Purchase from Kmart - Size 22 Blue Kaftan Top - $15
- Blue Ladies Sleep Pants - $13
- Mauve Embroidered Hair Band - $2
- From Discount outlet -
Reading Glasses -
$4 pair

- From local Op Shop - purchase $10 length of white chiffon
- Add to mix - 2 safety pins, cotton thread, needle & a Critical Mass 10th Birthday badge.
Purchase from NQR - $6 of heart-shaped strawberry flavoured lollies. (But I'm getting ahead of myself mentioning them). Now - the plan. Duly attire yourself on the theme as a demure Muslim lady. Plan the rest of your personal items, set up the commuter bike, add slip on Blundstone shoes & Crumpler bag. On the bike, and set off for Critical Mass's 10th Birthday ride, hoping to arrive at 5.30pm or a tad earlier.
Result: Insults hurled galore as I rode from the inner northern suburbs to the State Library. Choice extracts:

WHATERFECKAREYER

- GOBACKTOYERCOUNTERY -

GETTHEFECKOFFTERBIKE

and the rather common garden variety

FECKOFF

. Utterly charming. And I'll add these insults came predominately from nice young men driving cars. I will admit the sight of a woman dressed in a hijab-style headdress riding a bicycle (or possibly confused as a nun, refer comments in last post) will some members of the public in conniptions. But, why the insults? Mixed signals?

Possible
Michelle Leslie reference?
Was my small 'social experiment' outside most peoples field of reference? Or is delightful Melbourne similiar to rest of John Howards "relaxed and comfortable" Australia or bitterly divided? You tell me. My 'social experiment' lasted less than four hours and was in

no way

meant to demean or insult Islam. I have the utmost respect for other peoples faiths. Now back to last nights entertainment. It was the BIGGEST ride I've ever participated in. It rocked. Big ones.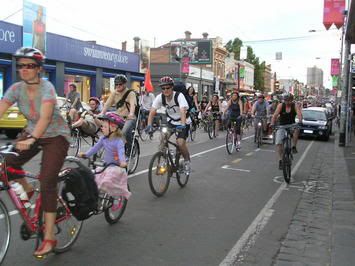 Brunswick Street - fun fun fun for everyone!





Melbourne Indy Media:

Thousands of cyclists celebrate Critical Mass
An estimated 1500 cyclists converged on the State Library to participate in the Critical Mass 10th birthday ride. The city had its normal peak hour gridlock of single occupant motor vehices, belching greenhouse gases and contributing to global warming.



Saturdays Herald Sun:

Ross Thornton has a brainfart
Acting Supt Stephen Dennis said aside from lengthy delays in the CBD and surrounding suburbs the riders were well behaved. Truck driver Ross Thornton, who heads up a group called Critical Smash, called media outlets to pass on a warning to the cyclists -- stay out of the way. "If any one of those idiots illegally impedes me I'll run straight over them," he said.



::

Anti cyclists threats in the media

::
Critical Mass 10 photos
::
More Critical Mass 10 photos
::
Yet more Critical Mass 10 pix
::
And here too
! :: Meanwhile, up north:
Critical Mass ride the Sydney Harbour Bridge
Namecalling and obvious spaz remarks aside, yeah, whatever - but actual

incitement

? Impeding or inadvertenly hindering
a vehicle, ever upsetting the poor little dears slightly will lead to

DEATH

. Shouldn't be suprised at all about that - just have a gander at the TAC stats and the latest 46 campaign. These sadly, only confirm the current levels of acceptable stupidity out there amongst the proles. Further reminders of John Howards "relaxed and comfortable" Australia? We're watching you, Ross. I will be following this issue further. I'll add links to further stuff on Fridays marvellous ride as they come to hand. tootle-pips for now.



UPDATE:
Stick this in your pipe and smoke it, Mr
Thornton:
http://criticalsmash.org/