Bring the Aeolian Ride to Melbourne!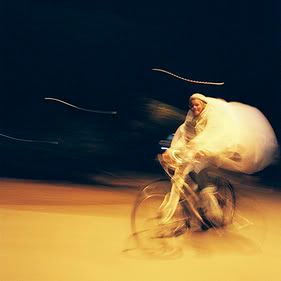 Image from Aeolian Night Ride in Los Angeles, a bicycle event we're helping to bring to Melbourne, read on ...
What is it?
Aeolian Ride is a free mass participatory bike ride with 52 inflatable costumes. Inspired by bike love, inflatables, human energy and public involvement with art, this ride transforms the memories of ordinary streets from everyday to a fantastic kinetic landscape - a playground of windfilled shapes.
Where does it happen?
So has plans to go to cities around the world. So far this ride has taken place in New York, San Francisco and Cape Town South Africa, and Los Angeles where the first night ride happened. Aeolian Ride is making an effort to come to Australia this February 2006.
Why it is free?
The artist, Jessica Findley, believes that the Aeolian ride should be free to the public. In and effort to keep it that way, Jessica has paid for the entire project except for the grant she received from the Black Rock Arts Foundation which, to date, covered 16% of current costs. Online donations and poster purchases thus far have covered 5% of the costs.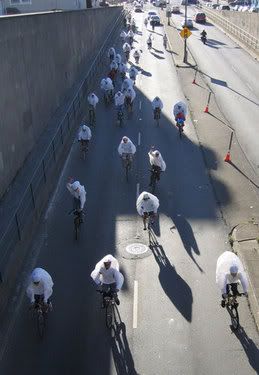 How You Can Help Make it Happen
Volunteering
All of the rides are made possible with the help of locals with a connection an existing bike culture and an interest in volunteering to help organize. Volunteer organizers help spread the word, find the path, look for funding, help find volunteer photographers and videographers and possibly helping to organize an after party. Volunteer safetly riders help riders suit up, keep the riders safe in traffic and guide the riders. Photographer's and videographer's documentation is essential to the process of preserving the ride for past present and future riders.
Funding
Any support that can be made available to support the ride helps to bring it to new locations and is greatly appreciated. Another great help is accommodation and bike loans. Please contact Jessica at info@aeolian-ride.info if you are able host the her and her #1 helper and/or loan them bikes for 1 or 2 weeks. If you know of any available grants for the ride to apply to please contact Jessica. If you would like to donate funds or buy a poster to help support the ride you can do so at www.aeolian-ride.info
See the photos and video of the ride - and sign up to be notified about the details of the ride www.aeolian-ride.info Hope to inflate you soon!
Jessica
Previous cileo post:

Latest Aeolian Ride - Cape Town So if yer game for inflatable February fun, also email moi as well, if you can assist locally with any of the requests Jessica mentioned.