Bunnies, raindrops and puff pastries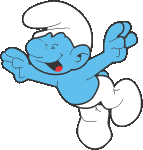 Welcome to Melbourne, official home of Ron Walker!


Melbourne may indeed be buzzing with excitment, whether it's Commonwealth Games traffic changes, the friendly Comms Games smurfs volunteers brightening up the streets, or The Age's debate regarding free public transport. Which, incidentally, they will be campaigning as a issue right up to the next Victorian state election. The main excitment around here is this weekend's Aeolian Ride, followed on Sunday by pleasant wind down pedals at either the Yarra Boulie or Melb World Wide Naked Bike Ride. There's been talk in our household of *someone* wearing cycling sleeves and legs with flesh-coloured undies. I've also overheard idle chatter concerning folks getting their backs waxed and attiring themselves in single explorer socks.

Eccchhhhh

, I'm retreating to a safe distance away from it all...



IMPORTANT UPDATE:

Commonwealth Games - Bike parking problems? Been hearing on ABC 774 this morning (10/3) about problems with bike parking for Comms Games events. It seems

if you lock up

outside a designated area that there is a chance your bike

could be confiscated

. So please be aware of this! Further information via BV website: Riding around during the Commonwealth Games.



Further Melboring transport news

: The Art of Transport: Mediums of Artistic Practice in Pakistan, India and Australia.

For more than ten years artists Durriya Kazi and

Mick Douglas

have been independently undertaking art projects in the public domain that work with modes of transport as mediums of art practice.




Overseas bicycle news

: Scrumptious bicycle p0rn & steel luggy goodiness, courtesy of the North American Handmade Bicycle Show :: Part 1 :: Part 2 :: Part 3 ::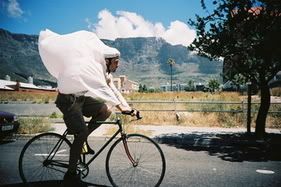 Cape Town SA ride, photo by Sean Wilson
Now back to those Aeolian Ride details, for the actual route, please see below these following paragraphs of stuff. Route segments could be subject to small changes due to Comms Games traffic conditions. As the ride is mainly on the Bay Trail, we ask that cyclists ride single file, or "unsuited" riders can ride in the adjacent bikelane on Beaconsfield Parade. Be polite, be nice to other trail/road users and follow traffic signals, as this isn't a Critical Mass style ride. Anyway virtually all Melbourne CM-style rides are nice and polite, expect for the occasional irate cager or someone getting their knick(er)s in a twist. But that's another kettle of fish story.

We meet 4pm, Saturday 11 March at the Beacon Cove Food Store in Port Melbourne. "Unsuited" riders are most welcome, we're having a waitlist just in case some registered riders don't attend, at 4.40pm is when we'll know if there's any spare suits. If you want to be a safety rider, please contact me on cfsmtb@gmail.com and I'll give you further details/headsup. Jessica has previous organised rides in New York, San Francisco, Cape Town + Los Angeles, so be prepared to travel for the next one! Addendum: Melbourne Weather for Saturday Saturday. Fine. Min 16 Max 33. So be prepared and bring sunscreen + plenty of water.


Also there is a reconnaissance ride to be held for riders/photographers tomorrow night, Thursday (9/3) at 7.30pm, meeting at the Beacon Cove Food Store. Please bring lights etc.



If you can't attend either, don't forget the benefit gig at Glitch Bar on 7.30pm, Friday 10th March, $5 entry, presentation + vids by Jessica Findley + *very special bicycle film* screening!


New York Aeolian Ride
Route: start at Beacon Cove Food Store in Port Melbourne (Melways 57 A3)
And we stay on the bikepath riding single file,

Turn right at Pier Road, into the beautiful Cantani Gardens,

Back onto the Bay Trail, then wait for it ..out to the St Kilda Pier! We can do this as long as the riders stay in single file & the safety riders do their job.

We ride up the pier, go around the back of the kiosk to the breakwater & have a little breather/rest.

Then proceed back down the pier, turn right, continue along the Bay Trail,

Ride down to St Kilda Marina, turn around there,

Ride back towards the city along the Bay Trail to Pier Rd,

Ride back up to Cantani Gardens, then up to the shared trails in Albert Park.

Then follow route to Lorne Street.

Cross Queens Rd at Lornes St,

Turn left up Queens Lane, turn right at Beatrice St,

Cross St Kilda Road at the lights

And bingo! We're at the Belgian Beer Cafe!