Melbourne Aeolian Ride - 11 March 2006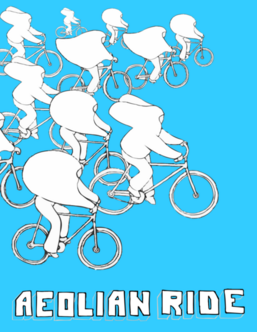 At long last we can officially, and proudly announce the Melbourne Aeolian Ride. For those bicyclistas up for another challenge, Sunday 12 March is Melbourne World Naked Bike Ride. So either suit up or
nude up
if one prefers. Here at cileo HQ, the management strives to serve up a rich pageant of the bicycling universe. Cycling may indeed the nu golf, but it's not all tasty carbon fiber p0rn and Jan Ulrich's cute new 'Frodo Baggins' curls or Viatcheslav Ekimov's
aerodynamic mullet
.

Please feel free to email moi at cfsmtbATgmailDOTcom
if you can assist with the ride ;)





From Jessica:

I am very excited to announce that the Aeolian Ride will be heading to Melbourne, Australia on March 11th 2006. Sign up is available online now! Bring your bike and your friends! Get inflated! Volunteer to take pictures or film the ride!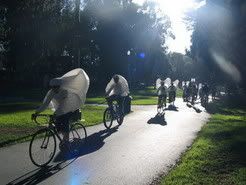 The ride will start at Station Pier next to the Beacon Cove Food Store, suiting up at 4pm and ending at around 6:30pm the Belgian Beer Café where cyclists are loved.

PLUS, there are now 52 inflatable suits thanks to Jonathan H. from Los Angeles, who got his mother, a professional parachutes seamstress for the US Department of Defense, to make a perfect pair of suits and donated them to the ride.

The first 52 web signups to CONFIRM will get wear a suit for the ride. Riders who won't be wearing suits are welcome to ride along for the fun! The Rain Date for the Ride is Saturday March 25th – same time and place.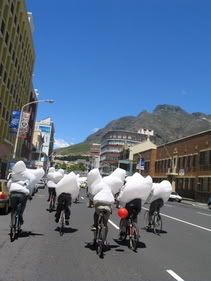 All the rides I have done outside of New York are made possible by a member of the local bike communities who volunteers to co-organize ride. These people are the champions of their local ride. This ride's champ is Chris Star who is an active member of the bike world in Melbourne. A big thanks to her and her pals for helping out. Let me know if you are interested in co-organizing a ride in your city!

AND a big thanks to all of you who have supported the ride. Remember to order your lovely hand screenprinted Aeolian Ride poster online to help keep the Aeolian Ride blowing up!

Love always,

Jessica
www.aeolian-ride.info