Bright spots...somewhere
And as Tuesday morning slowly morphs into late Thursday evening.....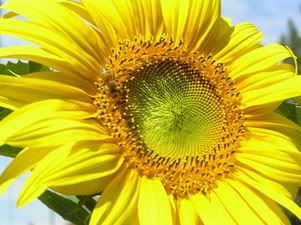 Another gorgeous Sunflower from our Beer Can Hill Estate. Pix by the lovely Bikesoiler.
The weekend is swiftly looming, and many brave cyclists are on their annual pilgrimage, to fling themselves against the hills....So that means w
e're travelling to Bright for the
200km Alpine Classic
. Not as a participant, but as Bikesoiler's Personal Soigneur and/or Beer Wench. And Spa Room Attendant. Woo hoo! Failing that I'll probably be roughing it at Boyntons. Or on a valiant quest for local evidence of the
Bright Brewery
. That's only if my stomach lining has sufficiently recuperated from last weekends debauchery. Seriously though, I am rather worried about the weather, but Audax organisers have contingencies regarding extremes of either hot OR cold.
Hmmm
. Faith willing, the Weather Gods will be kinder in the hills on Sunday than the 41C which is predicted for Melbourne. ouchies.

Aeolian Ride
:: Yep, it's still on for Melbourne this March. A small detail regarding a change of date to

March 11th

, and then we'll start promoting the ride. You will love this! If you can assist with accomodation and fundraising for Jessica, please email me.
Cheer up Geoff Gallop
! With Geoff's brave departure from the harsh political spotlight, may he find more time to enjoy riding!


Require the very latest bicycle fashion accessory - the aus.bicycle spokecard?

Click image on right to enlarge. Yep, this beautifully laminated card is big, oversized and you can actually read the text. Again, I'll ask, do you

want one

? If so, our highly trained operators are standing by to receive your orders. Simply email cfsmtb ATgmailDOTcom and we'll respond when we can be bothered checking the inbox. Remember: aus.bicycle

- because you can't ride all of the time!



:: Nasty
hit run
on Beach Road. With
follow up
::
Police have interviewed a Sunshine man, 44, in relation to a hit-run collision that left a cyclist seriously injured. A St Kilda man, 26, suffered head injuries when knocked off his bike in Beach Rd, Beaumaris, about 7.40pm last Thursday. On Saturday, police arrested a Sunshine man. He was released without charge pending further inquiries, but police have seized his car, a black Toyota Prado. The cyclist remained in a serious but stable condition at the Alfred hospital yesterday.
Off to test how watertight the case is, or sending samples to forensics?
Wales: Four cyclists killed in car crash
.
Tragically this incident occured the same day as 3000+ cyclists assembled in Geelong for
Amy's Ride
.
Suzie's photo's here
. Yes, some WoJ participants were a tad overexcitable. Guess who? Also, stayed tuned for a new series of
The Gooch
on Channel 31 as it looks like my WoJ interview will be included. I'll get more Team WoJ photo's on flickr when I've sussed out a smallish photoshop problem.
From
Rhyl Cycling Club
We have literally been overwhelmed by the messages of condolence and support received from all over the World. I will endeavour to convey your kind thoughts to the bereaved families. Thank you all again on behalf of Rhyl Cycling Club.
The most fitting tribute to tragic cyclists is to get on your bikes
I don't doubt that some bicycles lay idle this weekend. Worried parents will have kept their kids indoors, or in cars, not wanting them to be claimed so randomly as the four cyclists killed near Abergele the Sunday before last. And who could blame them for that?

...In the meantime the most fitting tribute to those who died is exactly what happened at the weekend - a legion of friends and fellow cyclists taking to the roads to enjoy the sport they loved so much.
For your perusal....bicycle videos from around the world...enjoy!
Critical Mass videos
::
Xtreme riding 1910 style
::
Girl riding bike circa 1940's
::
Speeding delivery bikes, 1969 in Greenwich Village
::BMX Rider :: 1930's Street scene in Norway ::1940's Street scene in Dublin ::