Wrathful H*tm*t Gods Smite Thee Down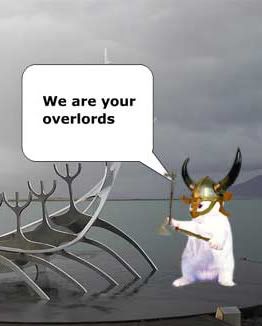 Another
word or two from our overlords
This is really last weeks news, but effects linger on. And on and on and on. Basically yours truly was flung slightly into low earth orbit last Saturday evening whilst journeying home from
Melb Cup on Wheels
. That was an awesome nights entertainment at Vodaphone - now I'm wondering how future CI events will go up at DISC? Back to our tale of woe.
Saturday was indeed a Perfect Evening, until a kittycat ran in front of me.
Yes, I had an Off - due to Avoiding A Cat. Not a road rage incident, not a clueless cager, not a 4WD or truck.
A Cat.
Chain of events: Furtive kitty darts out across Union Street as I turn towards a side street. To avoid hitting kitty, I grab a handful of brake, and a lethal combination of Salsa cyclocross levers & Shimano 600 brakes proceeded to do their duty. E
ndo on front wheel
, landing directly on noggin, straight over while clipped in & falling heavily on leftside in tangled mess. The tangled mess remained prostrate on Union Street, as it had winded itself and thought it wiser to lay near the gutter and look up at the stars. After a few minutes the tangled mess got it's breath back, found the other bike shoe (still clipped into pedal), wiggled it's fingers & toes and duly discovered many things, did indeed
. Many many thx to Pete for being an absolute gentleman, who received my panicked SMS, doubled back & escorted moi home.
The important stuff: Bike
Tears in brand new red tape on bullhorns, the barend shifters incurred damage. BTW, does anyone tips on how to protect these plastic levers? Normal wear n' tear aside I think they're gonna end up stuffed within a relatively short period. Long rip in leather Speed-She saddle, but believe this can be repaired. Oh, and one rear pocket on sleeveless jersey ripped badly. H*lm*t could be stuffed - two dents.
And the lovely Bikesoiler was up at Kona 24. So I had to sook quietly in solitude until his return on Sunday evening, and also pass on National BBQ Day @ CERES.



Hindsight:

while at Vodaphone I recall briefly chattering away about how h*lm*ts may have lead to a decrease in cycling rates since they became compulsory circa 1991.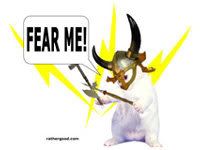 Further note:
I do not believe in conspiracies or supersitions, but can have paranoid tendencies.
I ask you, what's the likelihood that H*lm*t Gods overheard my offhand remarks, and then quickly conspired with the
Cat Gods
to directly send moi a message to Shut The Feck Up?

So it's a week on and I'm still in a World of
shit
Pain. And it's my birthday today. What a delightful welcome to early middle age...feck it..buy me chocolate. want chocolate. want chocolate NOW. Cancel Christmas,

I'm off the bike for at least 2-3 weeks with cracked ribs.

FECK.

whinge rant moan ... cfsmtb wanders off muttering incoherently and has another little rest