She's BACK!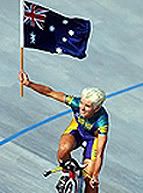 Kathy Watt
- Australia's first female cycling gold medallist
Games on again for cyclist Watt, 41
Sixteen years ago, Kathy Watt made her Commonwealth Games debut and snatched a surprising gold medal in the road race in Auckland. In March, Watt, 41, could claim another Commonwealth medal after beating the cream of Australian cycling yesterday to book her place at the Melbourne Commonwealth Games.
100-Watt powers her way to Games berth
Kathy Watt has often polarised opinion in Australian cycling, except when it comes to her stunning ability and determination. The 41-year-old has produced one of the best rides of her eventful career, gaining automatic selection for the Commonwealth Games. She convincingly won the individual time trial on day one of the Australian open road championships.
We deeply admire Kathy's grit and attitude that has persevered against intrenched cycling politics. 41 - that's given me a huge incentive to get my arse into gear. Or just one gear as the case maybe. And by the way - up yours Charlie! Wherever you are now. Next up, fascinating developments are occuring Back Home. (or the Deep South for you Mainlanders)

It's on your bikes, ladies
IT is time for Tasmanian women to get on their bikes, says Cycling South. An Australian Sports Commission survey found 5.8 per of women in Tasmania cycled, compared with the national average of 6.5 per cent. To address this, Cycling South -- set up by the five Greater Hobart councils -- is holding courses for adults this year.
Well knock moi down hard with a feather! Doesn't

that

news make a refreshing departure from those nasty old attitudes I incurred when growing up down there. i.e: I commenced riding
in the early 70's
and had to give up at age 12 due to
badly designed (big) bikes and shitful societal attitudes (that's putting it politely). Also interesting to read of ex-Bicycle Victoria Campaigns staff now employed at Cycling South. Back to topic - the 70's were the heyday of the Mighty 10-speed, dragsters were getting daggy and BMX's weren't on the horizon yet. Despite all the rosy 'retro' memories of Nicole on a bike,
all that seemed to bypass me residing in Hobart's then-harsh northern suburbs. My, my, how the place has gentrified and gone a tad aspirational. Mine you though, be careful scratching the surface. sigh.

PS - For Melbourne viewers - Goats On this Friday. Cheers & beers