I thought I told you to wait in the car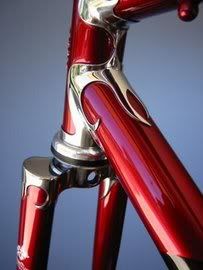 ***drool***
Excellent article on that fine purveyor of
Llewellyn bike p0rn
Demand for quality overrides quantity
Far away from the international race meets, Darrell Quentin Llewellyn McCulloch, 42, plies his rare trade — handcrafting, one at a time, quality, bespoke, steel-framed bicycles. The bikes, using decades-old construction methods are, appropriately, called Llewellyns. They are ridden by amateurs, international collectors and elite cyclists. The Commonwealth Games team will be warming up on McCulloch's custom-designed and built stationary training bikes.
So you're lucky enought to possess a Llewellyn? The following media release from the local wallopers officer friendly may interest you. Pfff, if I owned a frame it'd be micro-chipped, on GPS tracking surveillance and guarded by crack team of F.P.E.S
attack cats. Speaking of kittys, here's step by step instructions for creating a nifty orange-flavoured skid lid fer your cat.

Bicycle Theft an Engraving Issue
With new bicycles on top of many people's Christmas wish-lists last year, Victoria Police is urging cyclists to have their licence numbers engraved. Police members will offer a free engraving service at Federation Square on Tuesday 31 January 2006 between the hours of 7am and 7pm.



Todays Rage also brings us: "

Rethink on Games traffic plan"
Which should of been accurately retitled
by Age sub-editors
as CARS, CARS, CARS, CARS. For those present at November's Bicycle Victoria AGM, Harry Barber did concede that an excellent opportunity for
mass bike parking at the
Commonwealth Games had been lost. Apparently primarily due to nervous nellies safety concerns from State government & respective authorities. Funny that. Can't larger quantities of pool cleaner and fertilizer be concealed in a smogbox? Ain't that a near perfect example of "
we have more to fear from the bungling of the incompetent than from the machinations of the wicked"
?!? Useless arseclowns, ahem,
pod dwellers, ahem, I meant, bureaucrats.
Fug it - here's a new
Aussie Fixie website
. I'm off to fiddle with the commuter steed. Needs an long overdue tweak, clean and refurnishment.

The Times provides further food for thought: Car firms 'blocking green fuel' :: Mapping out the future of transport :: Transport experts have seen the future, and it's got pedals