Mad Dogs and Englishmen
All primed for the 6.20am start
A highwater mark in Australian contemporary writing

Presenting
Hawthorn Cycling Club
...


Roy & HG:
The Alpine Dream
We're returned from swanning around the delightful locale of Bright. Unfortunately we missed out savouring the Bright Brewery but there shall be always be a next time. Maybe the brewery will actually be in-situ by 2007?
Now this incredible news. Bikesoiler completed the 200km Audax Alpine Classic. I'll type that again.



He completed the epic 200km in unbelievable conditions, and as he duly remarked, it was bordering on being too "Hieronymus Bosch" for comfort! Read his stirling tale of
achievement here
. Bikesoilers previous transcontinental desert training from last year was excellent preparation. Despite that I felt a uncomfortable combination of apprehension and pride, ie: repeatively
whinging
mentioning to him
beforehand
:
"if you feel sick, please stop at the 130"
. I've suffered heat stroke, resumed consciousness attached to a drip and therefore can attest it's a injury I wouldn't wish upon anyone. Well, there's at least 4 -5 fucktards on the face of this planet but that's another story..


Meet the friendly Wandi locals
Surviving the heat. Victoria is currently being parboiled by the elements. When up in the high country I thought it wise to commandeer the kiddies pool at our motel and immerse oneself in it fully attired + cowboy hat. That's one method to stay très kewl. On Sunday, while waiting for our partners to return, Troy & I went on a wander around the wilds of Wandiligong, ate jelly at the
Wandiligong Maze
and went single tracking along a local path. Piece of piss on a MTB, but it required 'advanced technical skills' on a road bike with 23mm treads! The Ninja is nicely kitted out with bullhorn bars, salsa cyclocross levers and Rubino treads, so the rig is

halfway

there. I dreamily fantasised about
missing the blackberries
Belgian pave .. cheering crowds on the
Paris-Roubaix
... Yeah, right, well, this ploy worked. The only real problem was dust and smooth river pebbles washing out the rear wheel. Hence, I dabbed a lot.
So what's on cyclists minds presently? Fer starters, there's the looming issue of
lane splitting
which may affect cyclists in the future.
Gutter journalism
. Which really isn't a surprise.
Inadvertent champagne comedy
from clueless letter writers. We also received preview tix to the TdF themed
Overcoming
. My 'precis' movie review: an intense portrayal of complex emotional, psychological and physical effects on a TdF team, it's a different perspective to Hell on Wheels.
The Melbourne Aeolian Ride is all ready, set, go for Saturday 11 March 2006. All that is required now is a recce ride, but that will be completed when this feral weather calms down.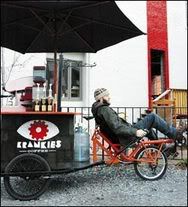 Stuff of interest :: USA: Coffee on Wheels:: Recycled Gear Clock :: From Bangladesh: Popularising bicycle :: Salvation via the bicycle :: Al Gore - Executive Powers speech: This should be of interest to activists et al :: Photographic study of bikes in Amsterdam :: USA: I don't care what the trendy kids say, bicycle riding helps liberate my mind



Now, all frivolity aside, today a

huge battle is raging

in Victoria, so please

support the CFA

. And our innocent

wildlife

caught up in this terrible disaster.