*Kissy*Kissy*Kissy*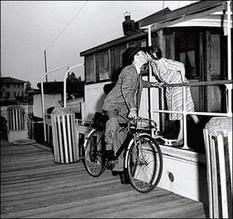 Hello Young Lovers, it's Valentines Day!
Say it with flowers? Nah, say it with a new XTR gruppo or Velocity Mountain Goat wheelset with Eno hubs. Sorry, getting ahead of myself there folks.
So what's new and groovy around the traps? First off the mark is that entertaining, but blatant misrepresentation of Melbourne Councils draft traffic strategy, re: that
Shun readers poll
I
commented upon
from last Friday. Read the
timeline of events
here. The published results: Should cars be banned from Melbourne's CBD? (Feb 10) No: 338 (36.5%) Yes: 590 (63.5%)
But the results at (original) close of poll Friday midnight: Should cars be banned from Melbourne's CBD? No: 253 (31.58%) Yes: 548 (68.41%) Votes so far: 801.
You surely don't need a calculator to see a disparity in the results. Then, oddly, the poll kicked off again on Sunday (12/2) and then somewhere between 9pm & 10pm Sunday evening switched to "Is it time for John Howard to step down as Prime Minister?" Shall we call shenanigans or contact
Media Watch
?

Courtesy of mX: The Saga of "Warrick of Rowville": The usual aus.bicycle threads :: and here too :: Closing remarks: what a boring plonker.

Vote
for new improved Docklands bikepaths (thx Adam for the pic!)
Important Wordy Stuff:
Inquiry into Australia's future oil supply and alternative transport fuels
. I started a
aus.bicycle thread
with links & info et al, please use them if you want to make a submission. In regards to influencing government policy, ever felt as if 'we' were collectively banging our heads against a brickwall? In the first episode for 2006, Four Corners "
The Greenhouse Mafia
" offered up a few reasons

why

this maybe occuring.
Extract: Janine Cohen: But it was during his time working for government that
Guy Pearse
first noticed a powerful group from the top end of town. They were lobbyists from the high-energy-using industries who seemed determined to undermine the Environment Department and block any greenhouse reforms. They were well connected to other government departments - but just how well, Guy Pearse didn't realise at the time.
Democracy! Ve$ted intere$t$! Withholding of information due to vested interests! Now where were we. As for the entire sustainable energy debate, we need a carbon-neutral system, but I very much doubt government and business interests have either the time or motivation to implement such a massive change in energy production. Regarding sequestion, to my non-scientific analysis it's akin to farting into a pillow. Hey there's lots of tax breaks in it though, please forgive my cynicism..
Bike Stuff: This February, Melbourne does seem to be the centre of the cycling universe.
Today 14/2 : From BikeFunnist

: Greetings Fellow Bike Funnists, for those that won't be making it to the big roundabout for the bicycle kiss-in, please feel free to come to the after picnic. We'll be showing up at Dights Falls, with chapped lips about 7ish+, and stay until the last person has left. For submissions or to sign up for the electronic version of BikeFun, email:

bikefunnist@gmail.com

. BikeFunMelbourne: Promoting cycling community in Melbourne through prolific bike fun. Please, have more bike fun.


Sustainable Living Fair
: Seeds for Change: 25 years on and Tips and Tricks for Cycling.
Connecting Cycling Melbourne
: Health & Culture in Planning for Bicycles is a free 1 day event featuring speakers from a variety of fields. This is a free event, lunch & refresements are included with your registration. 9:30am - 4:30pm, Thursday, February 16th at the Department of Infrastructure Theatrette, Level 29 80 Collins St, Melbourne More information & RSVP (by Wed Feb 15th) please contact Elisabeth Williams, Ph 9655 6227

elisabeth.williams@doi.vic.gov.au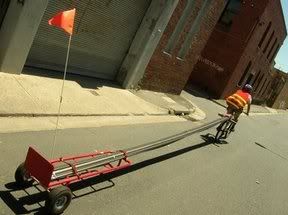 Three events from the
Pedal Powered Vehicles Workshop
:
Exhibition of Pedal Powered Vehicles at the Sustainable Living Festival.
The vehicles and accessories designed and prototyped through the Pedal-Powered Vehicle Workshop will be displayed for public comment and discussion, along with examples of work-trikes and bikes by two leading Australian human-powered vehicle developers and manufacturers Greenspeed and Trisled. When: 10am-5pm both Sat 18th & Sun 19th Feb
Finale forum

: A forum presenting pedal powered vehicles and sustainable transport strategy. A two-part forum, firstly with guest speakers discussing sustainable transport planning in Melbourne and the potential of increasing a work-cycle culture, to be followed by a series of presentations to transportation stakeholders from the Pedal-Powered Vehicle Workshop participants that propose ideas to 'make pedal-powered work', including vehicle prototypes. When: 9.30am-12.30pm Fri 17th Feb. Where: RMIT City Campus, Ground Floor, Building 50, 11 Orr St.
Ride-On-Dinner

: 6pm Fri 17 Feb, Start north end, Carlton gardens at corner of Carlton & Canning Sts . . .grab your cycle and an appetite for the spice of life to join a cavalcade of cyclists served a 3-course meal, pausing in 3 different locations, over a 3-hour evening inner-city ride . . . meals are limited! the first 50 people to register for the Ride-On-Dinner will receive confirmation to be fed, receive a map, and a cycle-worthy napkin. . . all cyclists welcome to pedal alongside. . . register by sending an email to rideondinner@gmail.com

Read FD's observations of Amsterdam after his *very recent* trip: From Amsterdam with Lerv (long...)

99% of bikes are black, 0.5% are red, 90% are steel, 9.99% are Alu. Saw one CF and one Ti roady out in countryside, 80% are 700c, other 15% made up (

fietsbikes

of these differing shapes and sizes so differing wheels sizes. I probably spotted a dozen mtb's in 2 weeks. no sh1t. 5-10% were folding bikes. Lots. They have recently introduced rebates for commuters on both PT tickets and folders to encourage more use of both. They had a fleet of them modern rickshaw thingies that have recently been launched in Melb. Saw 4 fixies. 3 of em couriers (of course).
From Sydney (SBAR)
browse here for super cool pix of Sundays

Body Art Ride.

Sundays' Yarra Boulie ride
was grouse. Despite the chip-seal surface being as rough as hessian undies. Give me VicRoads hot-mix anytime, especially when you're on 23mm Rubinos. Probably forgotten to add something else in, but hey I'm kinda busy and I've got the attention span of a ferret. If it's *really important*, wack it in the comments. Time for a noice cuppa.